Fifth Harmony who? It's solo time with Camila Cabello.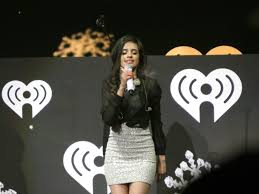 Leaving Fifth Harmony, Camila Cabello risked everything to pursue a successful individual career. And although Cabello continues the girl group trend where an individual leaves the group to chase their own career, legendary bands such as Backstreet Boys, Spice Girls and Destiny Child have typically proven to have one successful individual after leaving the group.
As Cabello leaves Fifth Harmony, she has to reintroduce herself, not as another Fifth Harmony member, but as herself to the world. If Cabello has the flair, guts and strive to become a hit-making machine, she will be able to trail ablaze another successful path even greater than her previous career.
Immediately after her departure from Fifth Harmony, Cabello began working on personal projects such as numerous collaborations — "I Know What You Did Last Summer" with Shawn Mendes and "Bad Things" with Machine Gun Kelly— to establish herself as a rising artist. Within those personal projects, the hit-single "Havana" later transformed into her first solo album. "Havana" became the foundations of Cabello's ambitions that established her salsa-infused, Cuban heritage and defining Latin music, while taking a quick jab at her old band mates after a bitter split.
"Havana" reinvented the idea of Latin music, using a traditional pop-Spanish soundtrack with an English, inspirational origin story. Quickly, worldwide, the single skyrocketed the Billboard Charts, constantly standing on the charts for the next 22 weeks.
The headliner of the Camila album, "Havana," demonstrated different sides of Cabello, never before seen. Cabello has always possessed a charismatic flair for the dramatics and a showmance of complicated elegance that entranced the audience in her ex-band, but it is not her charming personality that shines through. Instead, it is her powerful vocal range that brings out an emotional intensity, the identity of her new album Camila.
Camila is an album about reinvention that gives life to a new identity to Cabello that she tries to convey, the emotional intensity she has struggled with throughout her life — from her birth in Havana, Florida to rivalries and tensions within Fifth Harmony.
"She Loves Control" is an exploration within the girl group who was unable to express her own individuality and with a reggaeton beat, another Latin element, delivering "Havana" vibes while effortlessly switching between Spanish and English rhythms. The flirty track "Into It" creates similar sensations to tracks from artists such as Ariana Grande or Lorde that also provides an element of adulthood for Cabello.
Although this is her first solo, debut album, some flaws can been seen as some tracks dilute Cabello's captivating identity. "Never Be The Same," a questionable relation between love and addiction, requires a more in-depth vocal use because it confuses the audience with its wrong perception of Camila.
One can't help see that Fifth Harmony merely equipped Camila Cabello with basic proficiency; however, one can say Camila reveals a charming glimpse of Camila Cabello that sparks interest in the artist, wanting more from her.