Basketball teams bond in San Diego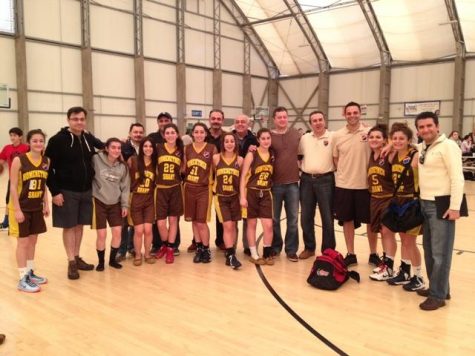 (February 28, 2013)– "What matters is that we did not give up," said junior Tatyana Aposhian about her basketball team during a recent tournament in San Diego. For many Clark students, their three weekend, from Feb. 16–18, was spent at the Alliant International University at San Diego, playing basketball tournaments.
This annual tournament was played by many teams from many different organizations, such as Homenetmen Ararat, Shant and Massis. As the games began on Saturday, teams competed against other teams that were in the same age division. The youngest players in the games were high school freshmen, for that was the youngest one could be to participate in the tournament. Teams for every organization are in divisions based off of age with Division A having the older players.
Junior Tatyana Aposhian who plays for Homenetmen Shant is in the Division A with the oldest players on her team being juniors. However, some of the teams they competed against had players who were even older. "[The tournament] was definitely something new and my team and I were able to challenge ourselves and learn a lot," Aposhian said. For each team, the number of games played varied. How many games each team played depended on the number of teams available from other organizations in the same division. On Saturday and Sunday the games played would determine whether the team would advance onto the semi-finals on Monday.
After the four teams of each division remained, they would move onto the semifinals and the finals both held on Monday. Although Aposhian's team did not advance to the semi-finals it was not a big let down to Aposhian because she knew that the older teams had a greater chance to win being more experienced. Junior Elsa Abedi plays on the same team as Tatyana Aposhian. At the San Diego Tournaments, they played a total of four games with Azadamard and Massis and two with Ararat. The other teams they competed against had players much older than their team.
"It was different [experience] because the girls were older than us which was challenging," Abedi said. Abedi felt the tournaments had a good effect on the team because they started to work more as a team and they got closer to each other. Feeling disappointed at the fact that their team could have won the last game, Aposhian said she was still proud of her team for "pulling together and not giving up" and that "when you work together it's a better outcome."
Also taking part in this tournament was sophomore Alex Boghossian, who plays for Ararat. His team also played four games and progressed to the semifinals. Before their games, one way they prepared was his team would watch their opponent play. "We watched how they played, how they communicated and we [discussed] how to beat them," Boghossian said. However, before and after games, players spent time bonding together as a team. Abedi and Aposhian ate with their teammates at Chipotle and travelled with a few members of the team to Starbucks. They would also hang out in the lobby or go to each others' hotel rooms.
Boghossian and his teammates spent time together in much the same way. They ate at the Elephant Bar or at In-N-Out and hung out at their hotel. "It was really fun, but it was more fun playing the games because that was what we were there for," Boghossian said.