TGI Fridays end the week with a bang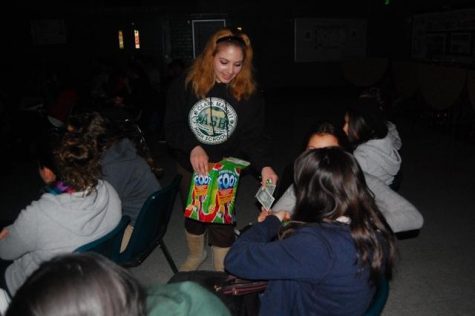 (January 31, 2013) — As the last few students took their seats in the auditeria, chips and fruit snacks in hand, the lights dimmed and the speakers blared the familiar chorus of "I'll Be There For You".
Several students clapped and cheered as old stars like Courteney Cox, Jennifer Aniston and Matthew Perry pranced around behind opening credits. The credits concluded, the show came on, and the stage was set for a half-hour of Friends , food and fun.
With quick snacks and laugh tracks aplenty, TGI Fridays are a new addition to Clark activities, the most recent of which occurred Jan. 11.
"It's kind of like going to the movies with a concession stand," said ASB advisor Elaine Snodgress. ASB coordinates the events, determining which students are allowed to attend, what shows will air, and which snacks will be sold. "Unfortunately, since we can't have everyone in the auditeria, we have to choose which students get to come," said junior and ASB Treasurer Natalie Armenian.
The auditeria has room for about 90 students and ASB members. "So basically, we pick the good students," Armenian said. To determine the event's guest list, ASB issues TGIF passes to all teachers, who can then hand out the passes to their 7th period students at their own discretion. Each ASB member receives two passes to hand out as well. TGI Fridays have occurred once a month since November, but it has not been until recently that ASB has aired episodes of Friends.
"The first time [in November] was a bit of an experiment," Snodgress said. "We had booths with carnival games, but then we realized it would be more fun to let students sit back, and we decided to air something funny, like a situational comedy." Junior Vahan Ghazaryan, another ASB member, saw Friends as the answer.
"We want to promote the idea of friendship," Ghazaryan said. "There's a really good vibe about it." Along with being a place for students to kick back every few Fridays, TGIF also serves as a fundraiser for all four classes. "If the ASB members can set it up," Snodgress said, "they'll be there selling."
TGIF offers a wide variety of snacks to complement the Friends viewing experience. "Come buy your chips! Only 50 cents a bag! Support the class of 2016!" said freshman Hayk Martirosyan, who operated a snack stand at the last TGIF. A few ASB members even took their wares beyond the stands; Senior Class President Adrine Oganyan walked throughout the seats, selling Fruit by the Foot snacks to grateful spectators.
All in all, TGI Fridays have been successful fundraising and entertainment events, and ASB plans to keep up the good times. "It's good that we're doing these," Armenian said. "Now no one can say 'We don't do anything fun!', you know?"