Parading in the rain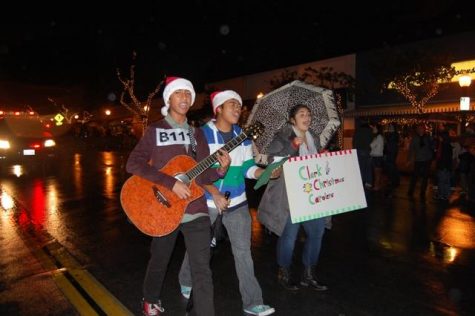 (December 14, 2012) — Just before the 36th annual Montrose Christmas Parade started on Dec. 1, the participants stood prepared, excited and ready. The cold air was filled with cheer and Christmas spirit.
Although it drizzled throughout the evening, the rain did not seem to be a problem for the people in the parade or for the audience.
Sophomore Ainsley Dye said that she has attended this parade for many years. "I love it when they do this every year, so I'm really excited," Dye said.
Many of the people in the parade wore Santa hats as Christmas music played on loudspeakers on a moving car. Classic cars also drove along the street. Local schools, including Crescenta Valley High School, Toll Middle School and the Armenian Sisters Academy, also took part in the parade.
The schools featured their bands, cheerleaders and flag teams, and singers. Clark featured members from their Relay for Life Club, the Robotics Club, Bike Club, and a few members from Music Club. Dye also said that her favorite part of the parade is when she sees her school. Besides schools, businesses and organizations supporting the parade, like the Montrose Starbucks and Keller Williams Realty, marched too.
During the parade, Mrs. Claus even made an appearance. As the parade continued, participants sat in cars, canoes, on mini motorcycles, and more. The parade also featured animals such as horses and wolves. The appearance of Santa Claus marked the end of the parade. He was seated on the top of the Glendale Fire Department fire truck and many kids became excited upon seeing him.