GM hires photo and cinema students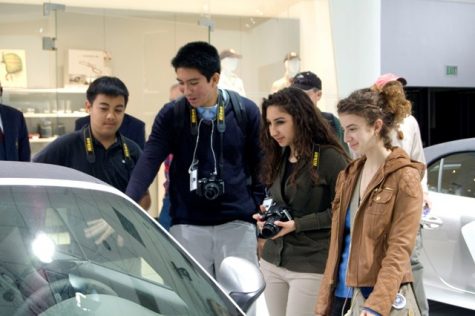 (December 14, 2012) — "Wow!" was all senior Ninelle Zargarian could say as she walked into the Los Angeles Convention Center and saw the displays of new model cars. Photography teacher Kelly Brinker's class of juniors and seniors, along with a few students from the Cinematography 5-6, went to the L.A. Auto Show at the Convention Center on Dec. 4.
Brinker's father worked for General Motors (GM); consequently, she says she wanted to get more people in this area to start driving American cars. After a few meetings with the GM CEO, the field trip came together for some students to go the car show and give feedback on what to improve for the upcoming years. The Los Angeles Auto Show takes place annually towards the end of the year. Car companies display some of their best models, day-to-day cars and concept cars.
This year most companies had their first hybrid or no-emission models on display. Brinker chose some of her students from her upper classmen to take on this trip. Since this was like a job for a day, students signed contracts with GM and also had a mini-interview about the trip and the details with Brinker. The class walked around the show and took pictures of the cars that they found interesting.
"We help [GM] out by giving them our opinions on their products and advertising," Zagarian said. "They want to know what we thought since we're the younger generation that they sell to." Eagerly, students loaded up their cameras and went off to complete the task. "We were asked to take pictures of how the General Motors displays compared to those of the competition, and if the GM displays attract people towards them," said senior Tina Ashvanian. In response to the feedback that students gave from last year's trip, GM was asked to be more interactive with the guests, like having pins that could be customized. Students also suggested having a charging dock for phones, which was available this year. GM also gave away free products as a promotion.
The students tested their photography skills as they did their best to take good shots of the cars while so many people kept blocking the view to get a better look themselves. Although the students were doing work for the class, they also had a lot of fun moments. Some even sat in their hopeful future cars. "My favorite part was sitting in the cars, and smelling the new car smell and imagining myself driving that car," Ashvanian said. "Especially the Camaro."
The cinema students chosen to document the Auto Show conducted interviews with product specialists, guests and students. Students also got a lot of footage of the cars. "The LA Auto Show is a huge showcase and they need to trust the crew documenting them to promote the event, so being held responsible for that made me feel that students are capable of more than they think they are, and can apply their knowledge to work outside of school," said senior Helen Mushegian.
The Auto Show actually had some cars available for visitors to test drive this year; never before have they given this option. Unfortunately, most of the Clark students were not eighteen yet, and for safety reasons were not allowed to take advantage of that feature. Even though this was still a field trip, it definitely was a unique one compared to trips to the library or museum.
"My favorite part, aside from checking out the cool cars and actually getting to sit inside them, was that this was a good opportunity to see how it feels to have a job," Zargarian said. "When we went to the auto show we were working."