Robot meets shuttle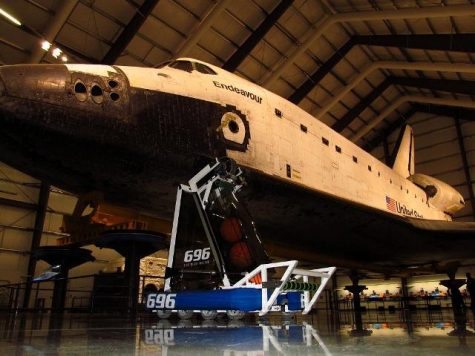 (November 15, 2012) — Early in the morning, as most students were shuffling into school, the members of team 696 were leaving it. To celebrate the opening of the public exhibit of the space shuttle Endeavor, members of the team presented the previous year's robot, Queen Hannah's Revenge, to a combination of NASA employees, space-enthusiasts and curious visitors.
In an effort to attract more visitors to see the recently retired spaceship and to mark the shuttle's opening ceremony, the California Science Center held a six-day festival celebrating the space program.
The program included the history of the shuttle, presentation by astronauts who had the opportunity to fly the shuttle, and of course, the FIRST Robotics team. The highlight of the Endeavor reveal was a week-long event at the California Science Center, including the display of the actual space-shuttle in a specially built building. However, the presentation was only the last of many events. In preparation for the Space Center, students were able to follow on the news as trucks led the vehicle to its final resting point, as well as see the shuttle in its near flight over Clark.
With the end of the weeklong event, students were excited to finally get a chance to visit the Endeavor and many were awed. After hours of presentations and hard work, students were able to stand directly underneath the space shuttle that started it all. "Words can't describe it," said junior Saikiran Ramanan.
"The amount of science and history related to the Endeavor is amazing. All of the research, mathematics and engineering of not just America, but the world to make this shuttle." The California Science Center will now be housing the Endeavor in a new permanent display. The space shuttle, along with a display on its history and service, will be on display at the Samuel Oschin Air and Space Center.