Not a complete loss for Hoover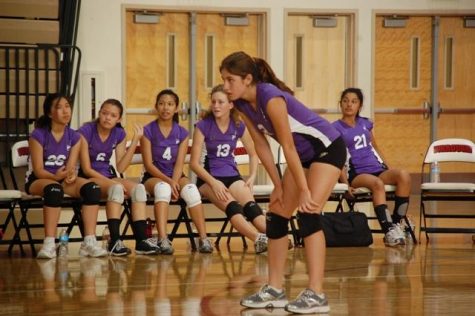 (September 19, 2012) — Both volleyball teams were trying hard to reach 25 points in both halves of the junior varsity match between Burroughs and Hoover last Thursday. This match, which featured a starting lineup that included a couple Clark students, was the first league game of the season for Hoover High School and their first league loss.
Starting off the game was Clark student, junior Araz Maleky. She scored the first point for her team after serving the ball. "I felt like it was a great start, and we could progress on that," Maleky said.
Hoover would continue to play hard and try to win the first half. However, at the end of the first half, Burroughs was ahead, 25-7. At the beginning of the second half, Maleky said she was hoping to just increase the energy and confidence of the team and to make it into the third half. Sophomore Daniela Salazar, also from Clark, had similar thoughts. She thought that since they had been working hard at practice they could win the second game. But once again, Burroughs won the second round as well, with a score of 25-16.
Although they lost the match, Hoover's team played the second half better than the first. "The first game is usually like [that]," Maleky said. "We have nerves the first game." She also said that in the second half they try harder since they know the dos and don'ts. However, there was something gained through this loss."By playing this game, it taught us that we have to work even harder so next time we can win," said Salazar.
Even though Burroughs was constantly in the lead, whenever Hoover would make a point, the players formed a quick huddle and cheered each other on. "If there is any time I want to give up, it will be when die," Maleky said. "It's always sad to lose, especially when you know that your team is very good," Salazar said.
"But we just need more practice and we just need to feel more confident about ourselves." Both said that there were things that not only the team could have improved on, but there were things the players could have improved on themselves.