New year, new dress standard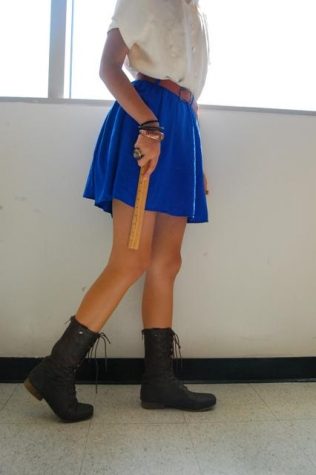 (September 19, 2012) –From the very start of the 2012-2013 school year, new bounds were set for the dress standard. Assistant Principal Lena Kortoshian said that as a result of students breaking the dress code and wearing inappropriate clothing, teachers and administrators came together to make a change. Now students may not wear sheer clothing and shorts and skirts must be no shorter than two inches above the knee.
Students have reacted differently to the changes, but Kortoshian said that it has been an effective change so far and that fewer dress code infractions have taken place. Junior Selin Rostami said that the changes haven't affected her clothing choices. "I don't wear shorts to school because my classes are really cold so it doesn't really affect me," Rostami said.
"I used to not like the dress code but now I'm pretty used to it." Rostami said that the dress code doesn't bother her but that she really likes having free dress days. "I don't feel like myself when I'm in dress code. I just can't act like myself and my style has definitely changed because of it," said Rostami. Junior Vartan Matossian also agrees that his style has changed.
However, he tries to maintain the same type of clothing with what he wears at school and outside of school. "I don't really like the dress code because it's too restricted and I rather choose what to wear," said Matossian.
"I try not to wear polos or the color red because they're too mainstream."When compared to other high schools, Kortoshian said she believes that the dress code makes Clark unique. "We need to make sure that all our students are wearing something suitable and meant to look like professionals," Kortoshian said.
"This is an institute and we are here to learn. We are not here to show off." Kortoshian said that the staff wants to make sure that the students come to school dressed in a way that will not distract from their education. So far, few violations have taken place but Kortoshian said that first time offenders usually aren't second time offenders.