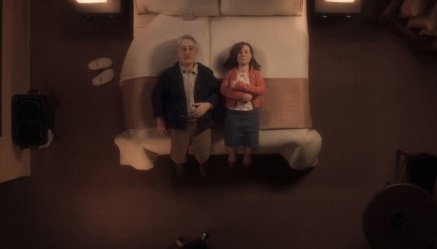 photo courtesy of collider.com
'Anomalisa' is filled with dark humor and painfully sweet melancholy
Amidst the many huge, big-name movies to come out this winter, there is one slightly obscure stop-motion animation film by the name of Anomalisa that is arguably the most tender and tear-rendering American movie of the year. Written and directed by Charlie Kaufman and Duke Johnson, this peculiar romance possesses every emotion that movies in 2015 were largely unable to produce.
At the center of the story is Michael Stone (voiced by David Thewlis), a customer service expert visiting Cincinnati to give a keynote address at a customer service conference. I don't think there has ever been a more drab synopsis of any film in history; however it's nearly impossible to explain the value of this film in words.
Although the film is shot in one-sixth-scale models of all the characters and settings, the emotional complexity of the situations at hand are extremely profound. Much of the film revolves around the repetitive mundanity of Michael's life and his demons from the past.
The world in which the movie takes place isn't really the kind of world we occupy, but the strange thing is that in some moments, it doesn't really feel too different. The fact that everyone other than Michael looks and sounds the exact same is a very uniquely brilliant idea — and one that is slightly terrifying at times. It's a perfect backdrop for emphasizing the idea of a monotonous life, and although everyone on Earth doesn't have the same exact voice, they sometimes sounds like they're all saying the same inconsequential thing.
The only other voice to be introduced to the film is that of Jennifer Jason Leigh, who voices Lisa, the woman Michael falls in love with. This is a purely genius way of showing that although Michael's life is painfully repetitive, there still is at least one person who stands out from the rest.
One of this film's greatest strengths is the writing. The writing makes you feel exactly what you're supposed to feel, exactly when you're supposed to feel it. This script deliberately contains some of the most boring but also some of the most emotionally stirring dialogue I have ever heard in a film.
The film does take a sour turn at the end and ultimately is a very crushing experience, but it's very heartbreakingly satisfying. It's the kind of movie that really gets you thinking and starts to make you question what it means to be human, what it means to love and to be loved in return, and how difficult it can be to let go of things in our short time here on Earth. This movie is so heartfelt and so human, it almost feels like the characters aren't just puppets. But who knows, maybe it takes a puppet to remind us what it is to be human.
Rating 7.9/10