'Spectre' shakes when it should have stirred
Daniel Craig gets the license to kill but decides not to shoot at full force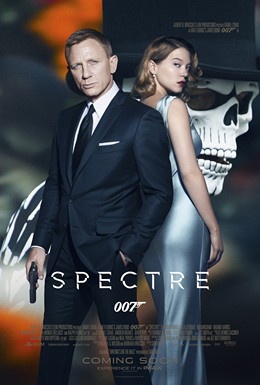 Spectre had everything it could have possibly needed to be a huge success, yet it still manages to be a disappointment.
All eyes were on Spectre since its predecessor, Skyfall, did so well with critics and at the box office, grossing more than $1.1 billion internationally. Sony brought back director Sam Mendes and screenwriters John Logan, Neal Purvis and Robert Wade to ensure that Spectre did as well as, if not better than, Skyfall.
Starring Daniel Craig as James Bond and Christoph Waltz as the leader of the Spectre organization, the movie promises to be great from early on. Sadly, it is not as great as anticipated.
The movie takes you on a journey across the globe, showing off the production's insanely high budget ($248 million, which is the highest budget given to any 007 film), but it fails to keep the plot connected flawlessly. Plain and simple, it is boring. The movie is 2½ hours long, but is filled with nonsense and not enough action that we're used to from other 007 films in the past.
Craig said in a recent interview with Time Out London that he would rather "break this glass and slash his wrists" rather than play James Bond again. He claims that he is tired of the character and that if he ever does another one, it will only be because of the money and nothing else. Well, that is really noticeable in the movie.
Craig is arguably the greatest actor to portray James Bond, as proven in Casino Royale, Skyfall and even Quantum of Solace. But in Spectre, Craig's fourth and probably last 007 film, it all drains down into the bottom of the river of the majesty's country just like the £3 million prototype  Aston Martin DB10 in the movie.
It is obvious Craig hates the role of James Bond, which is completely mind-boggling; how could one possibly be tired of playing such an iconic role as James Bond, especially when you make millions of dollars from each production?
Another let down is the disconnect with the iconic Bond Girl — there is no real Bond Girl in Spectre. Craig has Stephanie Sigman accompanying him during the first 10 minutes or so of the film, then you never hear from her again without any explanation. Then Craig sleeps with ­Monica Bellucci and keeps her by his side for a while to get information, then poof, she is gone for the rest of the movie like she was never there in the first place. Then, finally, he finds Lea Seydoux and lasts with her for the rest of the movie.
It truly is a shame; the acting is not superb, the plot is barely acceptable, the action just is not there, and the lack of energy completely falls through in this latest installment to the 007 franchise.