Welcome to the Year of the Dog!
Chinese New Years hold important meaning for many in Southern California
Traditions are passed down to preserve a strong cultural heritage. For many Southeast Asians — Vietnamese, Chinese, Indonesian, among others — that tradition is to celebrate Chinese New Years. Chinatown in Los Angeles becomes crowded with people of all ages. On North Broadway, an array of pedestrians stand hours on their feet for several hours, watching dragons dance and firecrackers crackle, all for one single purpose — to ensure a fortuitous year.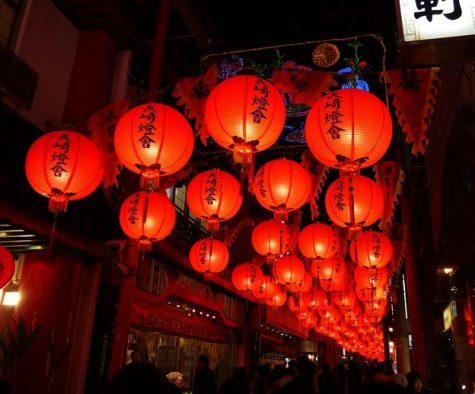 Chinatown is a clear representation of Chinese New Year, becoming very lively before Feb. 16. Small shops and businesses sell bright yellow and red flowers and deliciable pastries with a gold character stamped on top of the food to present a Chinese New Year vibe. The streets before Chinese New Year become massively packed with customers panicking to decorate homes similar to the decorated shops. And a week later, those same customers attend the L.A. Chinatown Firecracker run with the roads paved in good luck and fortune after Chinese New Year, either to witness or participate in the run.
The essentials to mimic these shops are red envelopes that have a gold character on it, to bring luck; sparkling flowers to bring out the life and attract spirits at home; and mandarin oranges for family reunions. All of these factors insinuate a lucky year.
"Plain and simple, Chinese New Years is not one of those holidays you celebrate for celebratory purposes," said Cal State University student Cindy Zhang who celebrates by purchasing customary items at small Chinese businesses. "It is more like a deep religion that requires tons of preparations that determines the future for your next year."
As parents and grandparents buy decorations to attract lucky spirits, other preparatory items are brought home to bring good luck such as lai see— the dreaded red envelopes married couples give to children.
Typically children are subjected to house duties. This means cleaning the house and cooking meals for family reunions. "Let me tell you, it is not as simple as it sounds," said Mark Keppel High School sophomore Janice Nguyen. "Chinese New Year Eve becomes the most tiresome day as children are forced to sweep the dust, representing all the bad luck that has accumulated over the last year. But many Asian parents are highly precautious about these tasks and continue to force children, people like me, to sweep constantly. However, to me it is worth it for a lucky year."
The Lunar New Year is immersed in superstistions to ensure good fortune that lasts for the next 12 months until the new lunar cycle. This includes wearing tang zhuang or ao dai, a customary suit made from silk, typically wore only for this holiday. These items of clothing brighten up small businesses with their vibrant colors, bringing good fortune and joy.
"Chinese New Year has permanently impacted my life," said Mark Keppel High School sophomore Jasmine Nguyen. "My family prepares Chinese New Year by buying all the ingredients to make the perfect holiday — the flowers, red envelopes, crimson firecrackers, etc… I usually buy all the things I need in Chinatown to support the small businesses that close up just for this holiday."
"My favorite part about Chinese New Year is the exclusive firecrackers meant to scare away bad spirits," said John Marshall High School junior Alyssa Jin. "Firecrackers come in all sizes— the little boxes that encourage young children to throw them on the floor to the big firecracker placed in a line on the street."
Because Chinese New Year is a time to illuminate homes with festive decorations that increase morale and blessings from deities, many people make their homes look like bright fireworks. Other traditional items are commonly seen not just homes, but in businesses and streets as well. These items include ubiquitous red lanterns or intricate red clippings, embroidered with the gold character fu, indicating wealth being poured down on residents and homes. Exotic flowers — from orchids to yellow peonies — bring forth attractive aromas that are believed to bring prosperity and good fortunes, removing evil spirits that lurk around the house.
Mandarin oranges (juzi) are placed into a pyramid shape, a popular tradition, to illustrate the peaks of high hopes and a symbol of good luck. Enormous rice cakes (nian gao) are purchased, with the fu sticker above the lotus leaves that cover the rice cake, to convey higher grades and larger opportunities simply because the name sounds like "higher year."
After constant decorative preparations, the celebration commences. The plain streets transform into blossoming red and gold theaters filled with linear lanterns and dancing dragons in celebration of foreshadowed fortunates. And as a result, colorful confetti drizzle from the smokey sky after the bursting, crimson firecrackers crackle on the paved streets and an incense scent overwhelms the crowds.
After, the clashes of cymbals and thumps against the gigantic drum, people begin shouting over one another to convey their joyous feeling about the parading animals that waltz down the road. All of these actions happen in under five seconds to attract attention from the Taoist deity, who offers bravery and loyalty, and eliminate evil spirits that may invade the ancient, crimson ceremony.
"All of these preparations lead up to the most important event, where the holiday not only becomes a celebration for good luck, but a celebration of humanity, itself, where men, women, and children convene together as a family to serve a single purpose, to wish for a better today, tomorrow and year," said UC freshman Irvine Grace Lee.