Burger battles: an American showdown
In-in-Out chows down its competitors, but for how long?
If you live in America, you probably have heard of – and feel passionate about – In-N-Out, McDonald's, Shake Shack and many other fast-food burger chains. These restaurants, and many more, have one thing in common: major competition. And all of them are competing for you.
The burger craze all began in 1940 when the McDonald's brothers opened the first McDonald's Bar-B-Q in San Bernardino. After changing their name to simply "McDonald's" and specializing their menu to burgers, fries and drinks, their popularity skyrocketed. "I grew up to McDonald's," said teacher Nick Doom. "We all grew up with 'Two all-beef patties, special sauce, lettuce, cheese, pickles, onions on a sesame-seed bun,' the Big Mac jingle."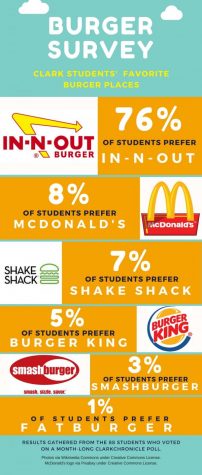 This drive-in would eventually become one of the biggest burger chains in the world, with franchises in more than 100 countries, according to McDonald's corporate website. Although previously, the business had favored quantity and cost over quality, teacher Fred Blattner, an occasional McDonald's consumer, thinks that customers are getting the same product. "They're pretty consistent," he said. "Nobody's surprised by what they get at McDonald's, good or bad." Unbeknownst to many, McDonald's has upped their game in recent years, transitioning to 100 percent real beef and cage-free eggs, to help in the battle against their countless culinary competitors.
Towards the West Coast, the company at the head of the pack is In-N-Out, according to L.A. Weekly's Best of L.A. 2017 poll. It's a well-known fact that In-N-Out is one of the most popular burger joints in California, with a major cult following in L.A. and devotees around the country, with fans like junior Melissa Diaz-Mancio, a monthly In-N-Out patron, saying "It's unpatriotic to hate In-N-Out."
The first In-N-Out opened its doors to the masses in 1948 and revolutionized the business from the get-go: they were the first to employ the use of a drive-thru. Nowadays, drive-thrus are common, and at In-N-Out, known to stretch around the block. As for those dining in, the wait can last from a few minutes to an hour.
Despite the lines, their food has proven to be worth it for those willing to brave the crowds. "It's actually a family tradition to eat In-N-Out," said sophomore Larisa Assadourian. Once a month, my whole family would get together at my grandma's house and one person would leave to get In-N-Out. Even though we'd have to wait about 45 minutes, it was worth it to see my cousins happy."
Known for their (not-so) secret menu, fresh ingredients and affordable prices, In-N-Out is considered by many to have the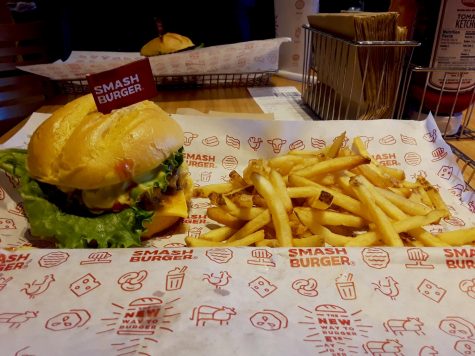 superior burger, and the company is defensive of its position. The company trademarked their popular Double-Double and Triple-Triple sandwiches in 1975, and in August, filed a lawsuit against another fast-food company, Smashburger, which began selling a burger called the Triple-Double. In-N-Out has successfully sued other copycats in the past, and Smashburger's Triple-Double, advertised to be "the stuff burger dreams are made of," may prove to be a nightmare for the aspiring Denver-based company.
Smashburger may not be the only chain In-N-Out has to fear. Another rising star is In-N-Out's East-Coast counterpart: Shake Shack. Based in New York, with its original location in Madison Square Garden, it has grown rapidly since sprouting in 2001. After opening 13 locations in California, many natives have tested the waters, and for most, their food has either been a hit or a miss. "I went to their grand opening, because I wanted to see what the hype was about," said junior Riane Galang, who considers herself to be a burger enthusiast. Her conclusion? "The food was over-hyped, and really expensive. It's impractical to get Shake Shack."
Others have contrasting opinions. "Yeah, Shake Shack is pricey. But I still like to go sometimes; it's a nice treat," said junior Shaye Holladay McCarthy. Although Shake Shack differs from many well-known names with their extensive menu, steep prices and frozen fries, they are undoubtedly rising in the ranks.
A more classic contender is Fatburger, which began as a burger stand on Western Avenue, L.A. in 1947 and appropriately uses the slogan "The Last Great Hamburger Stand." When their first location opened, they began accumulating celebrity clientele such as Redd Foxx and Ray Charles. Their second location on La Cienega Boulevard continues to be a hotspot for late-night clubbers and burger fanatics alike.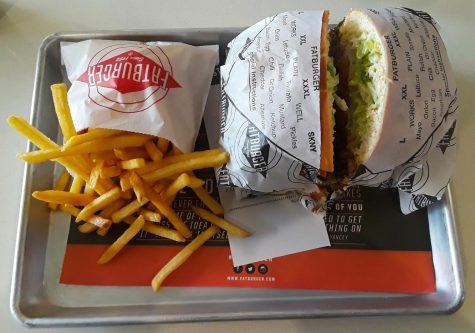 "I am an In-N-Out fan, but my favorite is Fatburger," declared one customer, who declined to give her name. "Their food is always hot, fresh, and consistent, and I like how they're still old-school." And as loyal as fans are to Fatburger, Fatburger is loyal to their fans, promising customers "Conquer the XXXL Fatburger and earn your spot on the #XXXchallenge Wall of Fame for eternity." Eternity is a quite a long time, and with the momentum they currently have, Fatburger's legacy may go on for at least that amount of time.
Fighting a group match in the wrestling ring, good ol' McDonald's, In-N-Out, Fatburger and others are constantly vying for the crowd's attention, and winners constantly change from one round to the next. According to a recent Clark Chronicle poll, In-N-Out still comes out on top, with 76 percent of students preferring them over other burger places . . . but maybe not for long.
There are constantly new challengers to the throne, including new places, such as Five Guy's, and older ones, including Fatburger. The competition constantly supplies customers with new sources for satisfaction, and as long as demand for America's favorite food exists, so will the cutthroat burger battles.
Leave a Comment
About the Contributor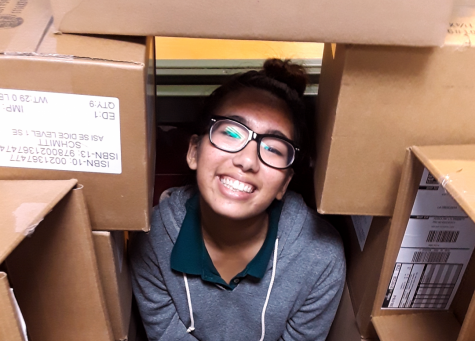 Sangam Sharma, Staff Writer
Interests/Hobbies: Breathing, reading, sleeping, and eating.

Favorite year in music: 1971
Goals in life: Live until 29.

Three words to...