Should drive-thrus stay open?
Fast food drive-thrus should stay open during the COVID-19 outbreak
The spread of COVID-19 continues to affect 212 nations as schools, small businesses and fast-food restaurants have closed. In Los Angeles, the quarantine began in mid March with the intended goal of decreasing the spread of the virus if people follow social distancing guidelines. It is important for people to only leave their homes for essential things such as grocery shopping or picking up medicine.
When the stay-at-home order first began, customers were not permitted to eat in restaurants. Some restaurants even removed their outdoor seating to prevent people from grabbing food and sitting with others. Many smaller food businesses such as Mi Corazon Restaurant in Kenneth Village closed and did not reopen up until recently. Some bigger franchises such as Starbucks have closed many of their locations; however, those with drive-thrus have kept only their drive-thrus open. This is the same case for places such as Krispy Kreme and In-N-Out.
While some are grateful that these places continue to pay their workers as they risk their lives to provide food to the public, others are upset that drive-thrus have stayed open. Some have taken to social media platforms such as Twitter to say that if teens are able to grab their cup of coffee, then beaches should reopen and people can still social distance on the sand.
Recently, people have started to protest at beaches but have not been effective. I don't think it is fair to compare a fast-food chain drive-thru to the beach, because since food is considered to be essential, these drive-thrus allow a safe way to grab food or drinks. Even though some lines could take up to an hour, it is a privilege that LA Mayor Eric Garcetti has permitted these drive-thrus to stay open.
Beginning April 7, Mayor Garcetti implemented a new rule that required people to wear a mask when leaving their homes. All essential workers must also wear masks and have the right to refuse service to any customer who is not wearing a mask. This is another step to ensure people that drive-thrus and other fast-food restaurants are safe. Now workers who take your order at drive-thrus or bring the food to your car, are required to wear masks. This ensures safety between customers and workers. Although it can cause traffic as cars wrap around the area, the restaurants have hired more workers to ensure the safety of their customers.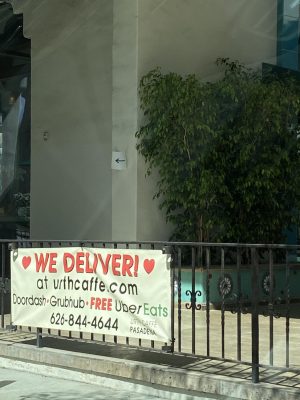 I drove past my local In-N-Out and the line wrapped around the entire restaurant. There were three workers taking orders and they stood six feet from cars. I think that allowing drive-thrus to continue to stay open and provide food gives a sense of normalcy to people. Also, as fast food restaurants stay open, it allows people to continue working, even opening up job opportunities for others who have been temporarily laid off due to the pandemic.
On March 27, Pres. Trump signed the CARES Act that provides guidance and loans to small businesses in order for them to reopen. I think this was a great reaction to the pandemic as it allowed some businesses to open but still uphold social distancing. For example, Hang Loose Hawaiian Shave Ice recently reopened to allow online orders which allows customers to order from a distance. Although this is a new change to people, allowing people to slowly get back to normal gives hope to the nation.
Even though some were against drive-thrus, other restaurants have now begun to open and they have placed new regulations as they still must uphold social distancing. Places such as Urth Caffé and The Habit Burger Grill only allow take-out or delivery. Customers can order online through their website or with Grubhub; they do not take phone orders.
This pandemic quickly changed everything, and people had to adapt to these new rules set in place to keep everyone safe. As the stay-at-home order continues to be extended, it is important for people to wear their masks when going to get food ensuring the protection of them and the fast food workers.
Keeping drive-thrus open allows societies to have some sense of normalcy and gives opportunities for people to still make money. There is little harm in continuing to serve people food and drinks through a small window.