Die Hard for Christmas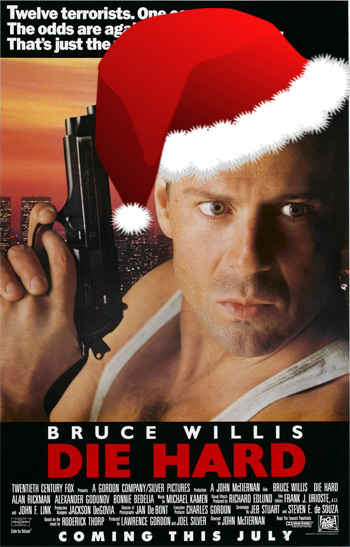 Christmas is a holiday filled with great traditions. Among these, the most prominent is probably the viewing Christmas movies. Among many of these great specials, such as Home Alone, Christmas Carol, and A Christmas Story, most people miss the greatest Christmas special ever made. I am of course talking about John McTiernan's legendary and heartwarming movie: Die Hard.
The movie takes place on a skyscraper, where a band of German terrorists takes hostages. Unfortunately for them, among the hostages is the wife of an officer named John McClane. As the police is rendered helpless to storm the occupied building, McClane, as a one-man army, invades the skyscraper and systematically eradicates every terrorist in the building for the sake of his family.
Some, however, may disagree about Die Hard being a Christmas movie. Die Hard is not a Christmas movie because it has absolutely no focus on the spirit of Christmas. Instead it only focuses on a guy killing bunch of dudes," said sophomore Mason Metz.
True, the movie is held as the grandfather of the action genre. But one must analyze the movie from within to see why truly it is the greatest of its kind. While one might dismiss Die Hard as a simple action movie, a true film critic would analyze the deeper messages of this movie. There are two messages: first, that family matters above all else; second, that every man within himself holds the strength beyond anything he could dream of. If a movie with such morals is not true to the Christmas spirit, then nothing can be.
"
But one must analyze the movie from within to see why truly it is the greatest of its kind."
— Hayk Martirosyan
So what if there is a lot of killing? What many can't see is that when analyzing the movie more deeply, we can clearly see that the villains are not just plain terrorists, they are an embodiment of evil, meant to be looked upon more as a concept than as individuals.
Let's be honest, the main antagonist, Hans Gruber, who is one of the greatest villains in history mind you, appears as this cold, calculative and brutal individual who always walks around in a suit and leads a band of men in his quest to get rich. Truly nothing can exemplify the commercialization of Christmas.
So you see, the movie is an allegory, where the terrorists stand to ruin Christmas through their quest for riches in a time of joy and happiness, while a sole man moves to prove that family bonds and inner strength are above any form of business when it comes down to Christmas. And so, Die Hard is perhaps the greatest Christmas movie made. And if you have not watched it yet, I truly recommend you do.