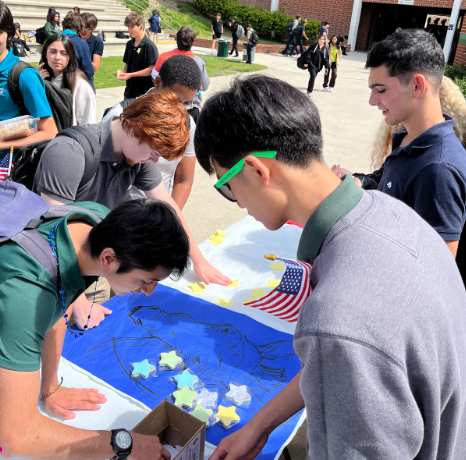 With the 2024 presidential election fast approaching, the next generation of adults are being given the chance to vote for the first time. From September 18th to September 22nd, Clark's first ever Voter Registration Week brings awareness to pre-registration, a program introduced in California in 2012 that allows 16 and 17-year-olds to pre-register to vote before they turn 18. After pre-registering, applicants will immediately be qualified to enter a ballot as soon as they turn 18. This allows people who are not of legal voting age plenty of time to get ready for the upcoming election season without worrying about the typical 15 day wait period for voter registration. 
"It's encouraged by the state to do voter registration week. It's a good way to educate and remind people to register and pre-register to vote" said Alex Barfyan, ASB Secretary who helped set up registration week. 
ASB planned activities at the bottom of the amphitheater throughout Voter Registration Week. "We had a Voter Registration Week committee that brainstormed ideas that would be interactive and related to politics and fun," Barfyan said. 
On Monday, students created their own political pins, combining student creativity with the importance of voting. The next day, ASB made a paper American Flag, where students were able to draw their stars with their names on it, showing that voting is all-inclusive. On Wednesday, ASB took polaroid photos of students behind a president-like podium, replicating a presidential photoshoot. 
Senior participant Hector Banuelos said, "This event gave me a memorable photo that had all my friends in it." The following day, a band created by former Clark students called Far Beyond, did a metal rock performance for the entire duration of lunch. "We got in contact with Leo, the drummer, who actually graduated from Clark last year, and he was happy to do it," Barfyan said. On the last day of the week, students participated in a mock election, picking between Republicans, Democrats, Liberals, and Independents which exposed students to the different political parties in the next presidential election. 
One of Clark's ASB officers, Nicholas Fang, created the art and posters for each event. "Just having my work displayed in general was awesome. I saw that other people were having a good time when the giant posters I made were present," Fang said. The most challenging piece of art was the paper American flag. "It took the most time out of everything I made. I had to measure out a flag that is like two times the size of me."
With the goal of educating students on pre-registration, Voter Registration Week not only gave students the chance to participate in interactive and fun activities, but hopefully motivated students to participate in the upcoming presidential election.