Clark ASB organized their third successful Homecoming dance with nearly 600 students that attended. For many students, Homecoming is one of the most anticipated events of the year because it's the first dance that sets the tone for the rest of the year. 
The week leading up to this event, ASB set up spirit week to get students involved, even if they weren't going to be able to make it to the dance. Each day of the week was given its own theme. Surprisingly participants went above and beyond to make their school spirit show in fun ways. 
Some students dressed up as characters from the Barbie and Oppenheimer movies for Barbenheimer day and others dressed in cowboy hats for Country vs Country club. Thursday was "anything but backpack" day where students brought alternatives to their backpacks, and senior Aram Arzumanyan brought a toilet filled with candy to carry his school supplies for the day. (You can read more about spirit week here: Spirit Week.)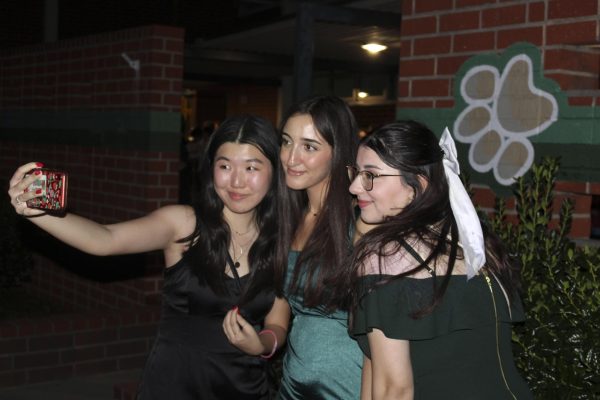 As the students arrived on campus, they were greeted by Mr. Mikayelyan at the gate, who reminded them to get 5-star ready so the check-in process would be quick. Mr. Zamlich and Mr. Bishop checked students in while Ms.Ohanian and Ms. Turchin worked to confirm guest passes. All students were given glow sticks and food vouchers by Ms. Cerda as they entered, and the fun began.
Students entered the transformed covered area decorated with hints of Paris. As the students walked through the gold foil fringe curtains that led them to the amphitheater, they saw the DJ, dancefloor, photo booth, and balloon arch backdrop for photo opportunities. Some students chose to pick up their food first as they waited for their friends to arrive. 
For some, the highlight of the evening was undoubtedly the catering provided by Chick-Fil-A. Students were treated to a choice of spicy or regular chicken sandwiches, cookies, waffle chips, and sauces.  "Homecoming is really fun so far. I think Chick-Fil-A was a great choice of food. It was really good because of the sauces," sophomore Izabella Murzynowski said. A night in Paris at Clark was a resounding success, thanks to the dedication and organized planning of ASB, teachers, and administrators. 
It was a night of laughter, friendship, and celebration, and it will be a cherished memory that goes in the books for the 2023-2024 school year.