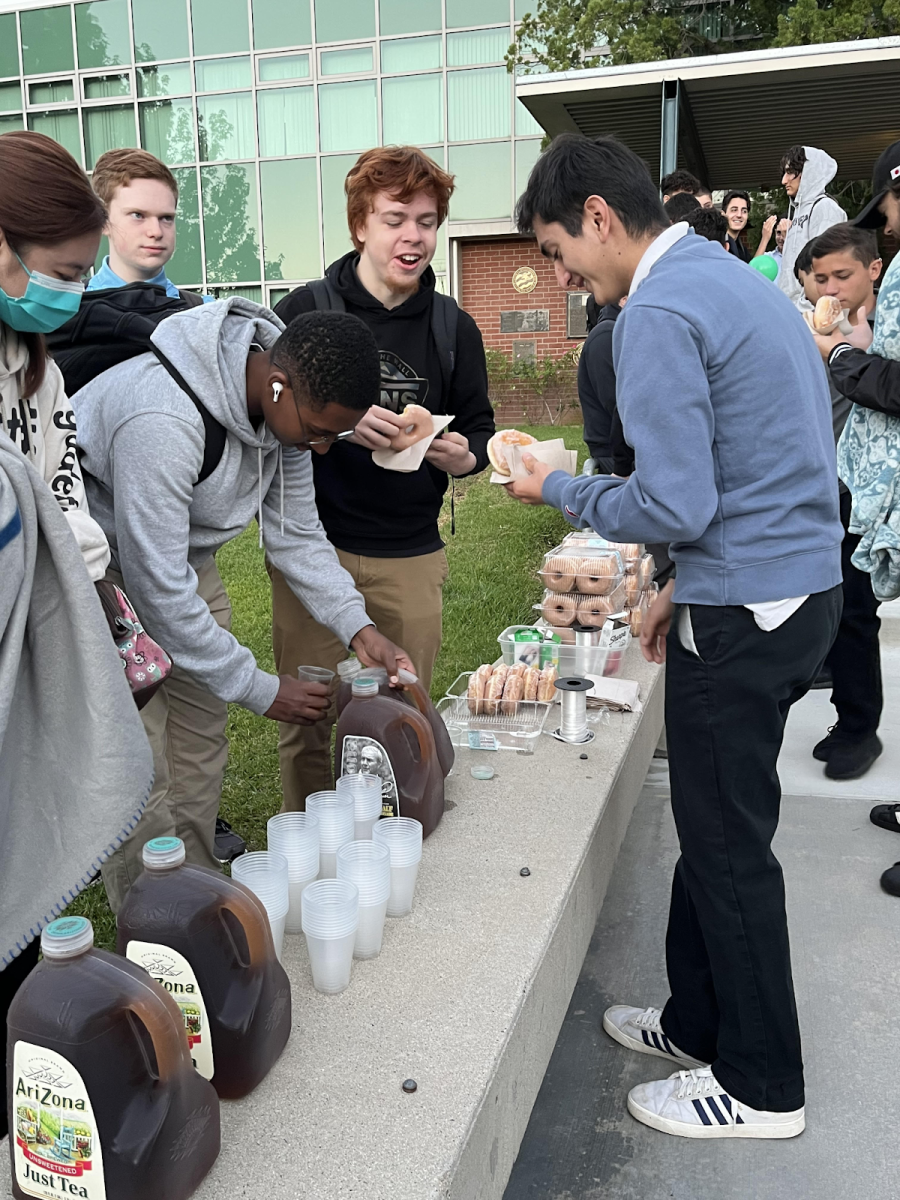 With a new and exciting journey into senior year ahead of them, the class of 2024 started their year off by taking part in Clark's annual tradition of Senior Sunrise.
Seniors woke up around five in the morning and arrived on campus at six to watch the sun start to rise with their friends. Some brought blankets and wore comfortable clothes to keep them warm against the fresh and crisp air during the early morning.
Clark's ASB officers had brought donuts and Arizona iced tea as a snack. Students also had the chance of taking photos together in a cardboard cutout of a Polaroid photo which had "Class of 2024" written on the top and cute designs all around the edges. "We wanted this Senior Sunrise to be a memorable senior event since it's the first one of the year," senior ASB secretary Alex Barfyan said. 
A new addition to the Senior Sunset tradition this year was a balloon release. Students were given green and gold balloons to represent Clark's signature colors and were told to write a goal that they had for the year on them and release them. 
"Our new advisor for ASB this year, Ms. Fang, came up with the balloon release idea, and the main idea of it was to motivate the seniors to work hard to achieve their goals this year since by releasing their balloons they would be releasing their motivation," Barfyan said.
Around 6:30, once the balloon release was over and the sun had risen, the real fun began. Most students rushed to their cars with their friends to enjoy some time together before school officially started. Most groups went to iHop to have breakfast and support their class fundraiser while others went to Starbucks or to Dunsmore and Deukmejian park. Some students went to other restaurants in the area, and others decided to stay on campus and enjoy the donuts that ASB had provided for them. 
"My favorite part of the senior sunrise was afterwards when my friends and I drove to the iHop nearby to support our class and have a nice breakfast together," senior Arineh Shahbazi said. "It was such a memorable experience, and it set the mood for an unforgettable senior year with many more memories to be made ahead."
With a memorable first senior event starting off their senior year, the class of 2024 is bound to make many more unforgettable memories together as the school year progresses!