Seniors Share One Last Dance
Most teens go through high school watching movies about the high school experience, which often leads up to prom and what that night will be like. On Friday, May 26th, Clark Magnet students arrived to celebrate the end of their four years of high school together at Castaway restaurant in Burbank.
This day, though a bit hectic at times, ends the school year on a bittersweet note as students share a dance floor together one last time before they go their separate ways. Before their arrival at the prom venue, seniors took pictures with their friends at Brand Park, Pasadena City Hall, and other locations.
Students arrived between 6:00 and 6:30 pm where they were greeted by the class advisor, Mrs. Ani and Armineh Mikaelian, as well as other chaperones including Mrs. Hirdler, Mr. Frazer, Mrs. Mardirosian, Mr. Mikayelyan, Mrs. Asatryan, and Mrs. Kortoshian. Although the check-in lines were long, the time flew by because of the excitement in the air. Each table sat about ten guests and the seniors were able to find their seats according to the name cards set on their dinner plates. As memorabilia, ASB had placed tiny plastic celebration bottles filled with imprinted M&Ms near each name card.
Once the DJ started playing house music, students approached the dance floor and had their friends accompany them to set the mood for the rest of the event. Before dinner was even served, seniors flooded the dance floor to kick off the night. "The highlight of my night was when we were all dancing," senior Sona Karapetyan said. "It was the one part of prom where everyone in our class was together and having fun."
Castaway waiters served the students salads alongside the appetizers they brought out at the start of the evening. As their entrée meal, students were given either the garlic chicken, tofu, or rosemary beef dish they had chosen with sides of potatoes and broccolini. The bar served drinks such as strawberry lemonade and the classic Shirley Temple for students to enjoy. Located near the entrance, ASB provided students with a photo booth to take pictures, allowing them to capture a permanent memory in the form of a physical photo strip.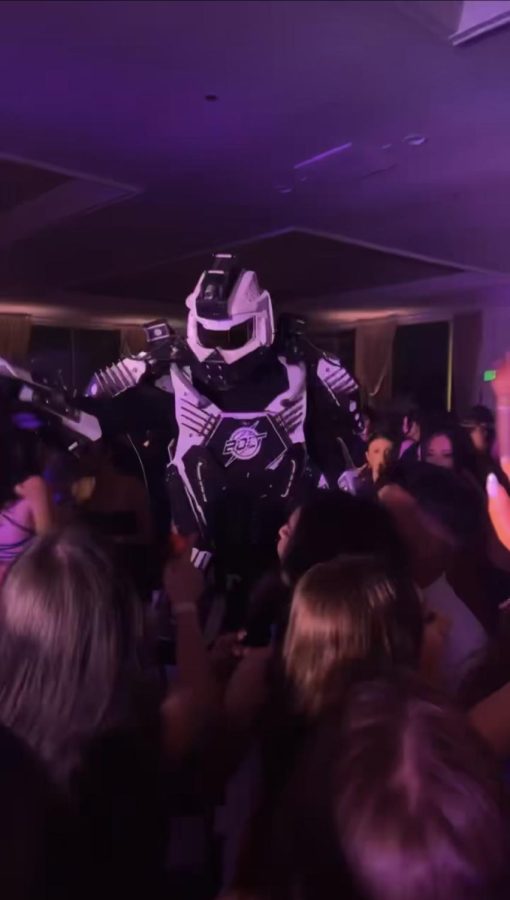 Toward the end of the event, the class advisors held an announcement to present the winners of prom court. ASB officers announced Nathan Scherrer, Yuzuna Kudo, Jessica Hovhannisyan, and Andrew Sarkissian as the winners and awarded them crowns and sashes. Following the announcement, Mrs. Kortoshian, former principal of Clark, presented a speech praising the class of 2023 and encouraging them to keep up their hard work as their final school days approached. 
To their surprise, students were accompanied by a party robot and a Daft Punk cosplayer. Many, stunned by the robots, circled around them and danced to the rhythm of the music. "ASB did an amazing job bringing the robot since everyone loved it and got excited when it entered the room," senior Romina Shabany said. "People quickly grabbed their phones and recorded every moment because of how special it was." 
For dessert, the seniors were surprised with crepes and ice cream. "ASB decided to surprise the seniors with not only one but two dessert menus because we wanted to reward our seniors for all their hard work and dedication throughout their final year at Clark," senior ASB officer Mary Tovbekhakyan said. "You know how Clark is; we do everything bigger and better." As the clock struck 10:30 p.m., students made their way out. Not wanting the night to end, some students concluded the night by attending a gathering or a restaurant of their choice.