Another year, another costume contest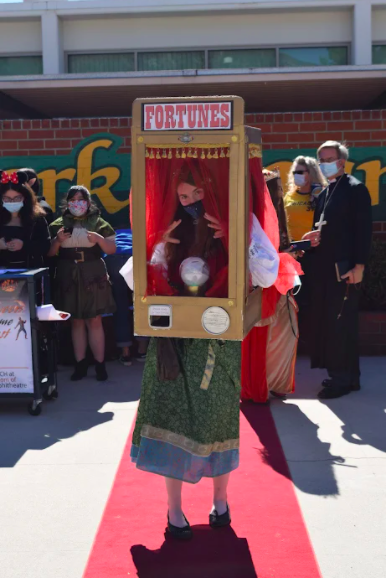 On Friday October 19th, Clark students once again wowed the audience with their costumes in Clark's Annual Costume Contest. The creative students of Clark hand-made their costumes to add a special touch.  
This year's Clark students took on a variety of personas with their costumes. From bunnies, fortune tellers, and even some famous celebrities, many people who entered the contest had pulled off a great signature look. Some students took it upon themselves to dress up as their favorite teachers; Mane Baghumyan as Mr. Frazer and Samuel Wang-Koenigsberg as Mr. Ghavam. Standing in the amphitheatre, the crowd could see laughter erupt among the teachers. As for the celebrities, Pitbull made a few appearances along with a sparkly suit duo dressed as the artist group, Daft Punk, which students seemed to love. 
As junior vice-president Eva Sarkissian took the floor with a microphone, she announced the names of those who entered the contest. When names were called, the contestants proceeded to "strut their stuff" down a mini red carpet where they were showing off their looks. The spectators in the audience filled the amphitheatre as they were eager to see their fellow classmates and what they came up with. Many people clapped, cheered, and even whistled when their friends' names were called or even when they loved the costume.  
Being inspired by her mother, Eve Klem had a creative outfit both the judges and the crowd loved. "My mom loves costuming, so we always make our costumes for Halloween… all we needed was a box big enough to fit my top half inside…" said Klem. After all her planning, Klem dressed as a fortune teller; she wore a simple green gown with a box over her torso with red curtains hung from the sides. Junior Elvina Narinyans, while viewing the show, said "Wow, that's so creative. I love her look. I hope she wins." Being a fan favorite, Klem won the contest with first place even though she was doubtful. Other than that, many students participated in group costumes. A series of five guys showed off their water polo gear as they dressed as a water polo team. Although quite simple, the crowd still went wild when seeing the crew. Along with this, a few people also dressed up as characters from a new, but popular, Korean TV show called Squid Game. Frat boys could be found rampaging through the halls as they were high off sugar. Of course, you can't go a year without seeing the inflatable dinosaur costumes jiggling as they run around Clark.  
Not only did the students do a great job but teachers did as well. Sra. Melville stunned the student body with her colorful piñata costume while Mrs. Vardanyan wore a silk, elegant princess gown. Many students were huge fans of the teachers' costumes and were surprised to see them going "full out" for the contest. One thing is for certain; the Clark community knows how to show the true spirit of Halloween!