Clark's First Homecoming is a Success!
For the first time in Clark's history, ASB hosted a Homecoming on October 15, 2021, which proceeded to be a very successful dance and fundraiser. An outstanding number of 700 students and guests attended, surpassing the expected 200-250 people ASB had in mind. We were able to raise around $4000 for the class of 2024,¨ said junior Emiliya Isagolian, director of activities at ASB. 
This year's homecoming had a lively DJ who played different types of songs ranging from Armenian, English, Persian, Russian, and Indian. The school was filled with students dancing, laughing, and singing. 
"Honestly, my experience was amazing. I had so much fun, like it was super positive and upbeat. Armenian music got us all hyped up!" said freshman Anna Avetisyan.    
Senior Allison Lee described her experience as "very chill yet fun" because she got to spend time with her friends. "The music was very loud but I wasn't bothered by that. The DJ was really good, I liked how he transitioned the music, and he chose a lot of really good songs," Lee said. Students were really enjoying the snippets of different ethnic music.
ASB's original plan was to have dinner from Red Robbin, but decided to change to Jersey Mikes which was closer, had more options, and provided packaged sandwiches. "I loved the food, especially for ASB making sure it was covid safe," said guest student senior Erica Labo. 
Clark was transformed into a magical place, immediately noticed by students who walked in. Twinkling lighting on the walls, balloon columns, star and moon cutouts and lanterns added to the overall starry atmosphere.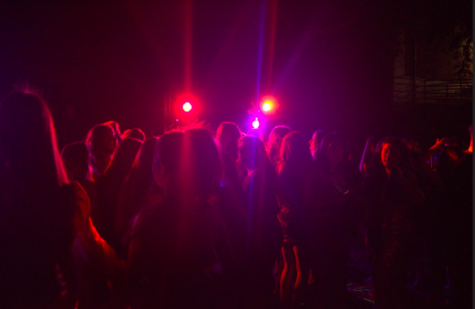 The purple and pink neon lights flashed as the beat dropped giving students a whole new experience on school campus. "I felt like I was at a concert because of the loud music, I really enjoyed that," said sophomore Emily Kasumyan. 
Due to Covid tests and vaccinations checks, it took a lot longer to admit students in. One student has a recommendation. ¨Maybe they should have had more stations with people and lines to let students in. Then everyone would be admitted faster and the fun would begin sooner," said freshman Nathan Klem. 
ASB set up games like chess, jenga, and yard pong in the Panther Pit for students to participate in as they took a break from dancing. 
"This was the largest scale school event we've had since we went out during March 2020. It's a tradition we want to grow on with adding more activities in Homecoming  week leading up to the dance," said Shari Scott-Sawyer, director of activities at ASB. 
First ever homecoming at Clark was a success and ASB's hardwork pulled off very well!
"Thank you to everyone who came and supported the class of 2024 at Homecoming. We appreciate it!" said Isagholian.