ASB Welcomes Freshmen with Annual Pancake Breakfast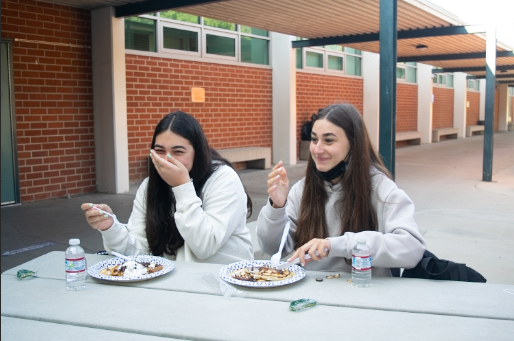 On Friday, September 17 Clark's ASB hosted the annual pancake breakfast for freshmen, one of the first events organized in a long time. The event was filled with colorful decorations, a red carpet, music, and plenty of pancakes. As teachers and admin cooked up pancakes and served them the freshman jammed out to popular hits with friends.
ASB member and freshman Charlotte Fernandez took on the role of planning and coordinating the event. Fernandez explained that ASB members met up nearly twice a week in the days leading up to the event. "To plan the event we also took ideas from previous years and adapted them to this year's event," Fernandez said. Though the everything seemed to be going well Fernandez felt that she could have done a better job being more organized.
Not much looked different compared to previous years, except masks. Regardless, most of the freshmen seemed to be having a good time.. Stepanian commented "I think the event is going really well and I like what they are doing for us, freshmen. It's making us feel special and welcomed." 
Contrary to Stepanian some freshmen weren't able to fully enjoy the experience as a lengthy line amassed quickly with most getting their pancakes at the end. Mr. Doom agreed as well "We did have some stumbles along the way with most students barely getting their pancakes at the end." He went on to say "I wish we had started a bit earlier but it's something we can remember for next year."
Victoria Yengibaryan shared her expectations prior to the breakfast saying "I hope there will be plenty of pancakes and toppings for everyone that most importantly taste good. As well as an opportunity to maybe talk to new people." After, she explained "My expectations were met pretty well. Everyone was really welcoming and the food tasted great. However, I didn't get the opportunity to meet too many new people."
Even though the breakfast was as simple as staff making students pancakes and sitting around with friends it showed to have a deeper value. At the end of the breakfast many sophomores wanted a similar breakfast organized as they missed out on their opportunity.
As the time for the event winded down the freshman continued to enjoy their pancakes and share laughs with friends as they embark on their high school experience.