GUSD students get vaccinated against Covid-19
Junior Emika Davis got her Pfizer vaccine through the GUSD offerings at Glendale Memorial Hospital. "It was extremely well-organized and efficient," Davis said. "The wait was hardly 15 minutes of standing in line — during which I was checked in — and getting the shot took less than a minute." Davis experienced little discomfort after the vaccine, and is glad to be back in school. "Once my friends are all fully vaccinated, I'm definitely planning on catching up on lost time," Davis said.
The district has been facilitating the vaccination of students ages 16 and up for free to ease the transition as well. On April 16, Glendale Unified reported having facilitated 1,800 vaccinations in partnership with Dignity Health Glendale Memorial Hospital for high school students and their household members.
There are three Covid vaccines currently offered at most locations: the Pfizer, Moderna, and Johnson & Johnson vaccines. According to Yale Medicine, the Pfizer vaccine is the most effective as well as the only of the three available for people as young as sixteen years old. While the vaccines' side effects vary, the Johnson & Johnson vaccine has a potentially dangerous aftereffect. "On Friday, April 23, the Food and Drug Administration (FDA) ended its recommended pause on the vaccine and will add a warning label about an uncommon […] blood clotting disorder," according to Yale Medicine.
Like Davis, sophomore Lauren Chang also got the Pfizer vaccine. "Overall, it was a lot simpler than I expected," Chang said. "A lot of the people I know who were vaccinated had to take naps afterwards from fatigue, but I did not experience that." While Chang is planning on getting the second dose of the vaccine, she does not plan on coming back to Clark this semester. "I do not have any problems with studying at home. I am not sure if I will go out more once I am fully vaccinated," Chang said.
Sophomore Francine Batungbacal is wary of going out and about even with her first dose of the vaccine. "Until summer hits, I won't be going out often," Batungbacal said. "Even if I have the vaccine, I could be a carrier, and I don't want to spread it to others."
Batungbacal's cautions are echoed by the CDC, which is still studying the vaccines and their properties. "People who have been fully vaccinated against COVID-19 should keep taking precautions in public places […] like wearing a mask, staying six feet apart from others, avoiding crowds and poorly ventilated spaces, and washing your hands often," according to the CDC. As shown with the Johnson & Johnson vaccine, the side effects may vary intensely, and each vaccine has varying protection.
In order to facilitate the return to school next school year, GUSD has been trying to bring students on campus. On April 1, the district released a set of guidelines and standards for students and teachers to follow upon returning to school. While the return was voluntary for students, all teachers were required to return with PPE and sanitization equipment provided by the district.
While students are not required to be on site for school, testing is still slated to take place in school. Not all AP exams are scheduled to take place in person; however, most math tests as well as the SAT will take place on campus.
About the Contributor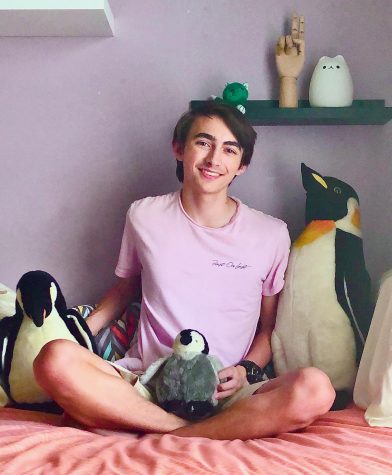 Willem Lent, Staff Writer
Hobbies/interests: Drawing, animating, learning languages, playing video games

Fav artist: Marina and the Diamonds

Movie you never get tired of watching:...