Long-awaited Armenian FLAG class taught by Mrs. Minasyan comes to Clark
Twenty-years after Clark's opening in 1998, students at Clark are being given the choice of learning another language other than Spanish. The results of the survey that students took before the pandemic started regarding which other languages they would want to be available were Russian in third place, French in second place, and Armenian in first place. 
"The administrators at Clark listen to the students and their requests," said Principal Lena Kortoshian. "If students want to add another class, then the admin will take the proper steps and follow a process to meet the needs of the students."
Because so many students expressed interest in taking Armenian, Nina Minasyan, a teacher of over 12 years, was hired to teach two courses in Armenian starting this school year. Minasyan is currently also teaching at Toll Middle School and splits her time at Clark. She also has both single-subject and multiple-subject teaching credentials in Armenian, as well as a master's and bachelor's degree in Armenian Language and Literature.
Minasyan says she is happy to be a part of emphasizing Armenian culture to students at Clark. "Clark in and of itself is a school with a good name attached to it," she said. "I understood that I can make it so that Armenian could become a loved language at Clark." (Note: All comments from Minasyan have been translated from Armenian to English)
Clark is currently teaching Armenian 5-6 to freshmen students who used to be in the Armenian FLAG (Foreign Language Academies of Glendale) program in elementary and middle school; for now, the class is only available for advanced Armenian language students. Clark has been trying to add another world language besides Spanish in order to further satisfy California's A-G requirements for a while. "Offering another world language was a WASC (Western Association of Schools and Colleges) recommendation for Clark in 2009," Kortoshian said. "For the past several years, students and parents were asking to add additional world language on Clark's course offerings."
Her goal is mainly to establish further appreciation in students at Clark in general regarding the Armenian language. "Firstly, if [my students] are Armenian, I want them to recognize their homeland [but,] if they are not Armenian and they chose to take the class, I wanted them to love… Armenian culture," Minasyan said. Armenian is also known to be a traditional language that dates back to almost 2,000 years ago. "Armenian is a very rich and ancient language, and in being such an old language, Armenian is a gorgeous language," she said.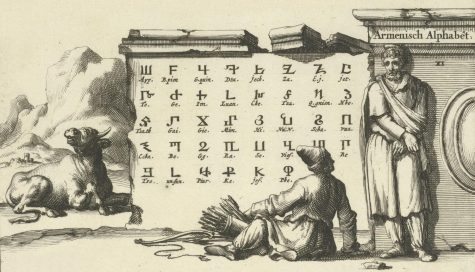 Senior Eli Asadoorian chose Armenian in the language survey for several reasons. "I voted in favor of adding Armenian as Clark's new language curriculum because… knowing the Armenian language helps prevent assimilation and loss of culture," he said. "I would 100 percent take the class if I wasn't a senior."
Similarly, senior Jannice Rigor — who is not Armenian and not taking the class — said she values the benefits of learning Armenian at Clark in general. "While I believe Spanish is a language we should know, I think it's such a great opportunity to get in touch with another community," she said. "There are a lot of people that speak Armenian and Spanish in Glendale/Los Angeles, and I believe [learning Armenian] should be a skill we can incorporate for future work and communication."
Minasyan also claims to believe that learning Armenian is an essential skill that can only come from the hard work of a teacher. "From the first day I ever started school, I knew I wanted to be a teacher… because a teacher can change a person's life for the better," Minasyan said. "Teachers play an important role in guiding students down the right path, so I chose to teach so I could change people's lives."
Learning the language itself to Minasyan is fairly simple, because every letter has its own sound and it's easy to sound everything out. "With Armenian, one can express mindsets in different ways. Armenian is also very flexible," she said.
"The Armenian language to me means survival," Asadoorian said. "The ability of the Armenian people to withstand imperialism, brutal regimes, massacres, and genocide is the ability of an indestructible people. A people whose language has helped cement their survival as Armenians."