Trivia traveled through the internet
Clark students compete at the 30th annual Scholastic Bowl
After weeks of preparing for the annual Scholastic Bowl, students and teachers were disappointed when the GUSD school board cancelled a live audience due to the outburst of the coronavirus. But thanks to Glendale High School's cinematography program, students captured the competition and streamed it live on GUSD's Facebook page. Only teachers and family members were allowed in the live audience.
Clark Magnet, Glendale, Crescenta Valley, and Hoover High School battled it out for the 2020 title March 12 at the John Wayne Performing Arts Center. "There's some fun in learning random things," said senior Alaina Joby.
To start off the night, the host, Fritz Coleman, announced the winners of the essay portion of the competition. On March 2, teams met to write a synthesis essay about the role of social media today. Clark placed third in the essay portion while Glendale High took the win. Clark began the competition with 36 points from the essay portion and rose up quickly during the first round. In this round, teams had 15 seconds to answer the question and write it on their white board. Team members could collaborate, but the first few questions seemed challenging as Clark's team had no answer.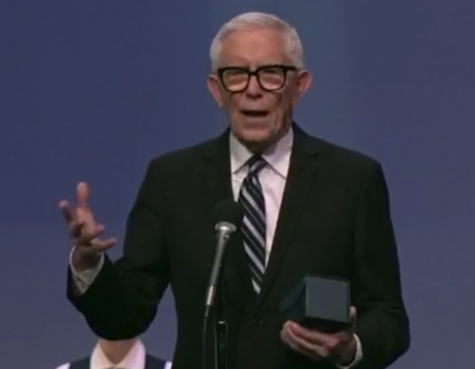 There was hope of placing in the top three as senior Chadi Saklaway and freshman Nathan Scherrer seemed to dominate the mathematics portion, while seniors Ella Ramamurthy and Joby dominated in the language arts and sciences portion. "This was my first year and last year on the team, and it's fun to get random questions from random fields," Saklaway said. "I have always loved trivia and watching Jeopardy." Cameras caught Saklaway quickly trying to solve the first math problem asked about the width of a rectangle.
Clark finished with 50 points at the end of the first round. Once the 10-minute break came to an end, Scherrer was replaced with senior Naomi Beach, and the second round began. This was the buzzer round as a question from the five topics — language arts, social sciences, science, mathematics and fine arts — was asked. Students were not allowed to discuss the answer and had to buzz in to answer. There were two instances where CV and GHS challenged the judges due to an incorrect or confusing answer.
Clark's students did not do as well as they hoped in this round. It seemed evident throughout this portion that Hoover might take home the win, because they were continuously answering with the right answers in mostly the social sciences and language arts.
As the night came to an end, Clark took fourth place with 56 points, Glendale High School came in third with 62 points, Crescenta Valley took second with 63 points, and Hoover High School won the competition with 69 points. Students were awarded their certificates and money at the end of the night.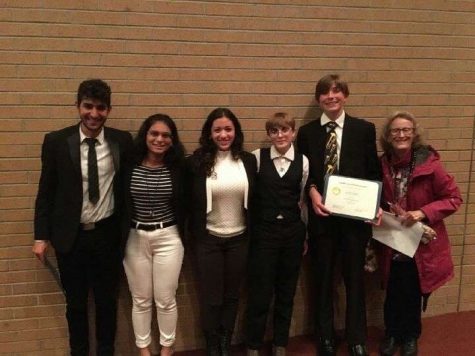 "It definitely felt weird not having a live audience, and I think what made it even more unusual was the underlying reason for it ― the coronavirus," Joby said. "But it was a nice thing for our nerves because the pressure of a live audience watching was alleviated."