Clark holds its Second Annual Resume Workshop
As the 2020 school year comes to an end, the chaos of senior projects, AP exams and job hunts hits seniors. To help them out, senior class advisor Narine Tatevosian organized the second annual resume workshop held on Feb. 20 in the school cybrary. Seniors were informed about the event and were required to sign up with Tatevosian ahead of time.
The one-hour workshop during enrichment advertised the fastest-growing occupations, the do's and don'ts during a job interview and extra information to put on your resume to impress the interviewee.
Tatevosian invited Haik Movessian, a former Clark student who now works for the Los Angeles Department of Water & Power, to lead the resume workshop presentation to 45 seniors. He included various tips on performing a good job interview to comparing and contrasting good and bad resumes.
For seniors, having an effective and well put together resume is essential because it is a requirement for the senior project. For senior Melanie Sepanian, the resume workshop helped her understand more about what should be on a resume and what shouldn't. "The workshop definitely helped me be more prepared in looking for a job and provided very useful tips that I know I will use in future resumes," Sepanian said.
The resume workshop presenters pointed out to seniors that college and finding a job is less than a year away. The time to be productive and create a valuable resume is now due to the fact that many seniors will attend college next year as well as perhaps start a job.
"This is my second year hosting this workshop," Tatevosian said. "One thing I noticed with the seniors taking the workshop was I think they liked the fact that it is an alumni instead of it being a Clark teacher. It is just a little refreshing."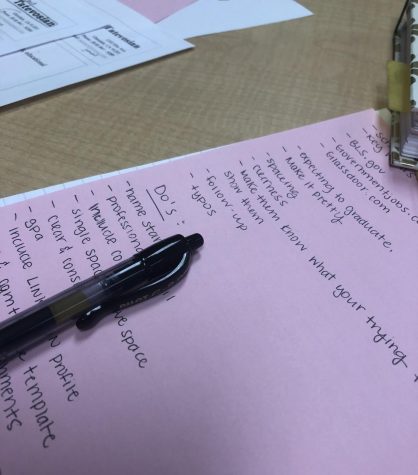 During the presentation, seniors took down notes on how to improve their own resumes, notes that included preparation for an interview, keywords and the ability to confidently answer questions asked during your interview. Movnessian indicated the skills that seniors need to prepare for the senior project and to perform a well-done interview.
With the recent success of the resume workshop, Tatevosian plans on running more workshops for seniors. "I plan to also have financial tips/guides for seniors workshops too, but that is still in the works," Tatevosian said.