50 years of creating leaders and champions
Clark students compete at SkillsUSA
"I was so excited to compete at SkillsUSA for the first time, but it wasn't what I expected," said senior Cinematography 5-6 student Lyanna Babakhanian after the most recent competition held on Jan. 25. "I spent days working on my short film with my partner to compete with other students from around the region."
This was Clark's fourth time competing at Skills, but it was the first time that Babakhanian and other cinema students found difficulty with the organization. The organization helps "students discover and grow their career passions and appreciate their own self-worth." This year, students from Engineering, Robotics, Photography, Advertising Design, Environmental GIS and Cinematography competed for a chance to compete at states. Students crammed onto one bus with their gear and projects.
Babakhanian, along with David Black, Dominique Evans-Bye, and 20 other students, took a field trip to Pasadena City College to compete at the SkillsUSA regional competition. Once arriving on campus, the Cinema students already had trouble locating the room where they were supposed to compete. "After sitting in the room for another hour, the main judge began lecturing us on how we were on a time crunch," Babakhanian said. They then went on to be judged on their dress code and were again lectured on how unprofessional it was for certain students to be wearing tennis shoes instead of leather shoes. "They were calling out students for small mistakes," Babakhanian said.
"The judges continued to criticize us on how we didn't have our team numbers on our binders and flash drives even though we were assigned our numbers the morning we got to the competition," she said. Clark students, along with other advisors and students from other schools, were upset they would get 50 points deducted for not writing the number on their projects. They voiced their opinions of how unfair they felt. "They kind of made it seem like the teachers did the work, not the students," said senior Cinematography 5-6 student Alexa De Carlo.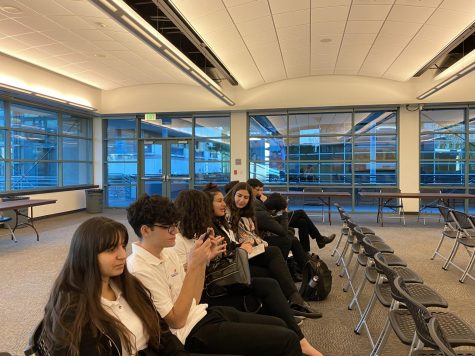 Many cinema students were frustrated with the difficulties they faced with the judges of their section, but Babakhanian said that they still kept a strong front and did their best with their films and interviews. Students competing with Evans-Bye for Environmental GIS and remote sensing were excited to show off their months of research on their topics. "The judges took really long to get around to each group and we ended up standing there for hours," junior Honors Environmental GIS student Anna Hovhannisyan said.
Students returned to Clark proud that they had a hard but productive day. "It was tiring, but worth it," Babakhanian said. Hovhannisyan said that they are looking forward to hearing the results of the competition in the next few weeks to see if they qualify for the national competition in Nashville, Tennessee in April.