Poetry Out Loud gives young poets the opportunity to showcase their skills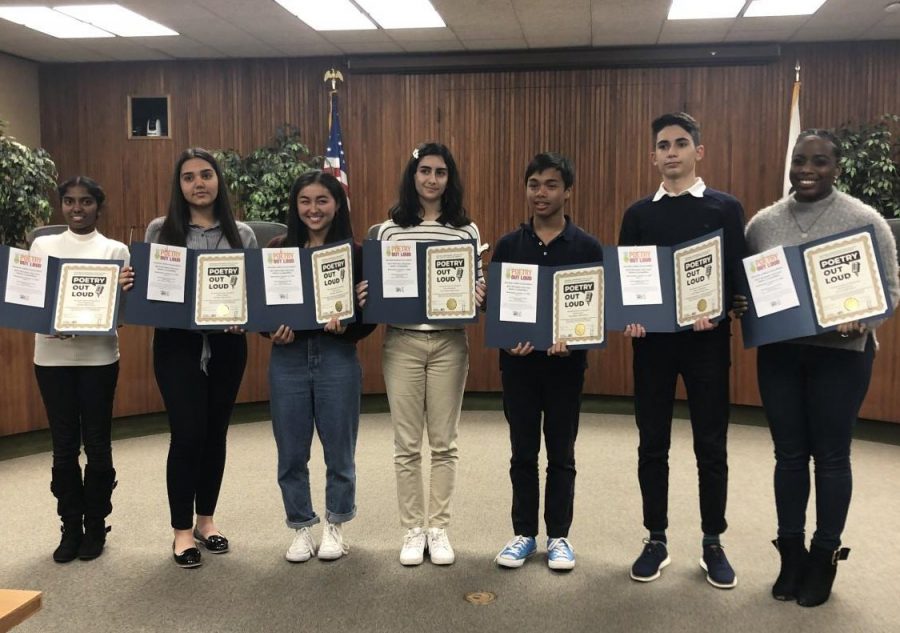 After several years of on-and-off participation in Poetry Out Loud — a competition which introduces the concept of poetry in schools all around the country — three Clark students signed up and participated in the recent GUSD competition. Clark, Hoover and Glendale High School students competed against each other and were judged based on their passion, memorization and recitation skills. (Crescenta Valley H.S. usually is a participant as well, but wasn't a part of the competition this year due to a lack of people signing up, according to Clark English teacher Jennifer Davis, who was responsible for coordinating Clark's participation.)
Senior Sona Keshishyan and sophomores Daniel Legita and Manvel Muradyan represented Clark at the Jan. 15 competition held at Glendale Board of Education. Each student was expected to choose and memorize two poems. Legita chose "Sonnet 18" by William Shakespeare and "Magnitudes" by Howard Nemerov. "I chose Sonnet 18… because I think I'm a person who's in love with love, and that poem really speaks deeply to me," he said. "The second one I chose talks about how the earth is being assaulted by us as humans and eventually the earth is going to strike back."
The three participants often came to room 1329 during either enrichment or lunch to practice their delivery of the poems before the day of the actual event. Muradyan, who chose "Invictus" by William Ernest Henley, and "A Barred Owl," by Richard Wilbur, said that Poetry Out Loud helped him improve on some choice skills. "Poetry Out Loud helped me improve on my intonation and just overall speech [in terms of] learning the poem by heart," he said. "It made me better at understanding text and knowing how to express it."
Davis was at the event to support the students and said that they did well. "It was very enjoyable. All of the reciters did a really excellent job," she said. "The judges had indicated it was really hard this year for them to make their decisions." Even with the commendable effort from Clark students, senior and three-time participant Katarina Manor from Hoover High School ended up taking first place.
Despite not winning the competition, Clark's participants were happy to be a part of the event. "I enjoyed seeing how others performed their poems in their own way that's different from everyone else," Muradyan said.
Keshishyan, who chose "Sonnet 18" as well and "How to Triumph Like a Girl," by Ada Limón, said that Poetry Out Loud was a worthwhile experience. "I really stepped out of my comfort zone for this. I [realized] that this is my last year of high school and I just wanted [to do] something memorable," she said. "It was really rewarding, too. If you do stuff like this you can have more experience for your resume. Plus, it's fun."
Davis agrees with Keshishyan in that the experience could be a valuable one. "You don't know what you can do until you try to do it," she said. "So, I like that it kind of gives students an opportunity to try something they wouldn't otherwise think about doing."
About the Contributors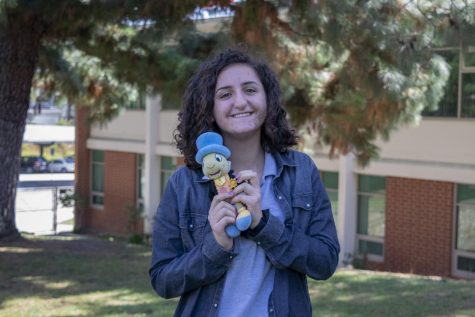 Anna Arutunian, Yearbook Section Editor
Hobbies/Interests: Reading, writing poetry, journaling, listening to music, Mandala coloring

Spirit animal: Giraffe

Places you want to travel...