Magical memories in a magical land: Seniors take the day off with annual Disney trip
"LET IT GO, LET IT GO, CAN'T HOLD IT BACK ANYMORE!!!"
On a chilly and way too early Saturday morning, 186 seniors convened together at around 7 a.m. for their senior trip to Disneyland on Jan. 11. It was a huge boost in attendance from the 60 students who went on the trip last year.
In preparation for the trip, some seniors wore festive mouse ears, others wore sweaters with the classic Disney logo, and a few even brought lightsabers in honor of the newly opened Star Wars: Galaxy's Edge park area that opened last August.
Split among four buses, the cold temperatures proved to be no match against the collective excitement and energy the seniors had on the road to the happiest place on Earth. On bus 4, a spontaneous Disney karaoke concert filled the walls of the yellow bus as it exited the freeway and turned right towards Disneyland. For what will be the last field trip for many seniors, the adventure of a lifetime was a few steps away.
After a quick meetup and group photo, seniors were allowed to freely roam the premises of the park. Aside from the occasional Remind text from senior advisor Narine Tatevosian, students were mostly on their own with planning and prioritizing rides for what was the next ten to eleven hours.
"We didn't really plan out our route from the beginning," said senior Justin Umali. "But as we went on, we formed a plan on which rides to hit and prioritized the big rides."
Many rushed to the more popular rides like Space Mountain and Autopia, but a majority of the students dashed to brand new land, Star Wars: Galaxy's Edge. Featuring trendy foods like the wildly unique offering of blue or green milk, and the new ride, Smuggler's Run, Galaxy's Edge was the go-to place for the seniors to start off their day. The objective of the ride is more interactive as the ride requires six people who are each given specific tasks that each help the ship, the iconic Millennium Falcon, escape from the First Order.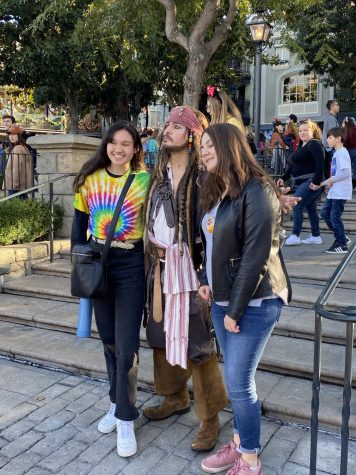 Although the ride had wait times as long as two hours, the ride was well worth it for the seniors who got to experience it, both Star Wars fans and not. "The buttons were really fun to press on the ride," said senior Egypt Jimenez. "Going with my friends, even though the wait time was super long, was super fun because we got to talk and relax for a while, and I even got some nap time in."
From riding other major rides, shopping for exclusive Disneyland souvenirs, and trying the various foods to exploring the neighboring Downtown Disney, the notion of time was completely forgotten for many until the 9:30 fireworks finale signaled the end of what was a fun-filled day as well the time to go home.
Looking back, Umali appreciates the continued tradition of the senior Disney trip. "Personally I had a really great experience," he said. "I usually don't like Disneyland because it's a lot of walking, but I was there with some really good people that made the whole experience better."