Youth Leadership Consortium provides LA students an abundance of tips for college admission
The restless sun shined brightly down onto the equally restless morning coming up. People were welcomed with smiling faces, drawstring bags and an array of breakfast products, stuffing their hungry stomachs with bran muffins and orange juice, then ushering themselves into the massive gym of Loyola Marymount University, home of the Lions, to see what and how much they could learn about attending college in one day.
The Youth Leadership Consortium and the National Hispanic Scholarship Fund (HSF) invited several hundred students to Loyola Marymount, a private university in Los Angeles, to attend "College Prep Saturday" on Nov. 23
College Prep Saturday's main goal is to teach middle and high school students — and their parents — how exactly to plan, prepare and pay for college. The event was free and bilingual for all Hispanic families who spoke Spanish better than they did English. Junior Gabriela Guevara from Franklin High School has not decided what she would like to major in yet, but is interested in psychology. "The biggest obstacle [of going to college] would be being a minority. Also the workload and getting used to [will be difficult]," she said when asked about potential obstacles that she could face while going to college.
The wall on the left of the massive gym boasted painted blue and white and sports displays, the majority of them being because of basketball. Several basketball hoops were visible from the very back of the plethora of people and chairs, and a podium was set up with Anahi Godinez (Los Angeles Area Chamber of Commerce's Director of Strategic Partnerships and Events) introducing the event. She mentioned the sponsors of this event, which included Wells Fargo bank, the American Indian College Fund, the College Board and APIA Scholars to name a few.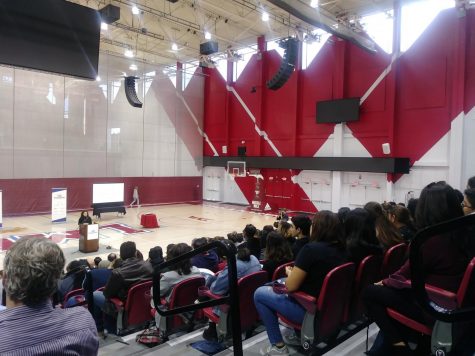 Godinez also introduced Matthew Fissinger (LMU Admissions) and Cesar Trujillo (Senior Vice President National Implementation Manager) to instill a few words of inspiration and hope and also speak a few words on behalf of their positions. Trujillo talked about Wells Fargo's support of HSF, including how they have supported HSF since 2003. Wells Fargo has committed over $24 million to HSF, which has supported over 3,000 scholars across the country. "Nothing should stop you [from going to college]. We need bright minds like yours," Trujillo said.
The students, ranging from freshmen to seniors with some eighth graders mixed in, were then divided by grade level and taken to different rooms for the two workshops about college information. The workshops were all dissimilar; each grade level got to learn from two different workshops. Juniors specifically listened to the "Strategic Application Process," describing the ins and outs of submitting college applications, and "Funding Your Future," which was an in-depth look at how to attain enough money for college, as well as additional information about financial aid.
Both workshops were mainly presented by Curtis Ferguson II, Associate Director from USC Admissions. Ferguson's entertaining personality was more than enough to keep the entire room listening, as he rarely drifted off topic and provided several "Curtis' Helpful Hints."
The application workshop dove into what is most important in college applications in comparison to what isn't, how to build a resume, and how to find the college best fit for you. An important thing to note about academics and how to impress colleges is to recognize that "colleges look at you from the context of your school," Ferguson said. What this means is that colleges analyze what classes a certain high school has to offer and compare those classes to the ones the applicant took, in order to determine whether or not the applicant has a good enough work ethic and strive for challenge to go to their college.
Ferguson's advice about grades and AP classes in this context is to "do the best that you can do in the environment that you are in." Additionally, colleges want to see that an applicant is involved in their school, involved in their community and taking leadership roles. This includes community service, extracurriculars and clubs. Another thing to consider with college application is to find the right school for you; the way to determine this is through extensive research and finding out a college's majors, financial aid, location, graduation rate, campus life, public vs. private school and religious vs. non-religious school environments.
After a quick break, Ferguson introduced a new guest — Natalia Zampini, a personal banker at Wells Fargo — to take all the juniors in the room through the financial aid process of college. All the juniors were taught basic elements of financial aid. The two types of financial aid are merit-based aid (money that you earn) and need-based aid (money that you are unable to acquire). You can attain either through scholarships or grants, both of which do not require you to pay back. Also, scholarships and grants should absolutely not ask for fees of any sort; if they do, they are most likely a scam. There are scholarships available to almost everyone, so applying to as many as possible wouldn't do harm.
When looking at loans, there are two types: subsidized and unsubsidized. The main difference between the two is that subsidized loans require the government to pay interest while a student is in school and unsubsidized loans have students pay the interest themselves. In order to calculate an accurate estimate to how much money a certain student needs for college, there is a basic equation, which is COA (Cost of Attendance) – EFC (Expected Family Contribution)= Financial Need (the number you need to pay for college). If needed, the Free Application for Federal Student Aid (FAFSA) can contribute to a certain family's EF C, as long as said family reapplies every year. Junior Aline Tran from Burbank High School personally recommends fastweb.com as a useful website for easy access and guidance to scholarships.
The day ended with a raffle and an advertisement for the Youth Leadership Consortium's annual Youth Leadership Summit (YLS), a free program for low-income high school juniors in which the students go to the University of Chicago on a four-day retreat to learn about college.
"Going to college is really important to me because I want to attend medical school [in the future]. I would be the first person in my family to get a degree and be a doctor," Tran said when asked about how important it is for her to go to college. "It's really all about taking advantage of who you are and [preparing to face] the real world."