Clark honors Ada Lovelace
An innovator who has shaped the future of technology
"[Ada Lovelace] was a woman working in the scientific field in the 19th century, which was as rare as getting struck by lightning," said teacher Fred Blattner after last week's assembly which featured a female speaker who has been successful in the science field.
Clark staff and students celebrated Ada Lovelace Day by attending an assembly in the auditeria on Oct. 15. This year marked the fifth year of annual Lovelace assemblies, which have all been organized by Blattner. The assembly was full of teachers and students from all grade levels, with an attendance of about 275 people.
Similar to past years, this year's assembly focused on women working in the STEM field today. Due to a miscommunication, as Blattner addressed towards the end of the assembly, only one speaker could be present. This year's special guest was Dr. Lucine Tumyan, a Clark parent and the City of Hope's chief of breast imaging.
To start her speech off in a fun way, Tumyan first asked students to guess who her daughter is, motivating them with a potential prize of candy. After many attempts from the students, she finally spilled the answer, as well as a surprise to most. Tumyan attended Glendale High School, and her teachers included Principal Lena Kortoshian, physics teacher Gerald Gruss and math teacher Geoffrey Woods.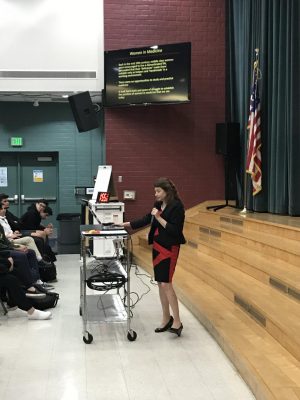 After introducing herself, Tumyan then focused on women in medicine. As shown through research with percentages, the number of women working in the STEM field has continuously improved throughout the years.
Through her own success, Lovelace has influenced men and women, including Dr. Tumyan, today. Born in Dec. 1815, Ada Lovelace was a mathematician and writer best known for her accomplishments as the first computer programmer. With her ideas, Lovelace created a future for people living in today's world of technology and innovation.
"Once I learned that the statistics for women working in the STEM fields were so low, it made me want to go into that field just to prove that women can do it too," said sophomore Nicole Matar.