Seniors rise to new memories
As the 2019-2020 school year began, seniors at Clark got together and watched a memorable sunrise. On Sept. 13, Clark held it is first-ever Senior Sunrise. At 6 a.m., 175 Clark seniors arrived with cozy clothing, blankets and enjoyed the sunrise while drinking hot chocolate and listening to music.
"In the morning it was so calm and peaceful, very different during the day," said senior Anna Fedderson. "As we rise to new beginnings, the sunrise represented new opportunities that we can hold during our last year at Clark; even though I'm always up all night doing homework, it never really occurred to me about watching the sunrise. But now I know that the sunrise was very relaxing," Fedderson said.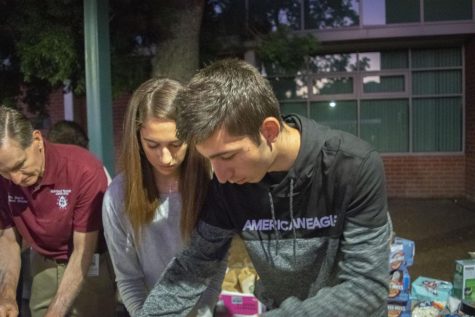 "It was the beginning of the day, the beginning of the senior year and potentially the beginning of our lives after school," said senior Eli Cruz. "It's that idea that you're at the beginning with friends that will stick with you till the end that made it so special for me to enjoy."
Hours before school started, seniors gathered and drank hot chocolate and ate Krispy Cream donuts. Senior class advisor Narine Tatevosian organized the entire event. "At first, I wasn't sure if I wanted to wake up to come to Clark at 6 a.m., but I thought the idea was super cute and I knew senior would remember it forever," Tatevosian said.
With picking up 17 dozen donut boxes, and preparing all the hot chocolate; Tatevosian was excited about this unique event. "My favorite part was just seeing how many seniors were excited about the whole event," Tatevosian said. "I especially loved how the hot chocolate was prepared fancy. It truly represented the class of 2020 well."