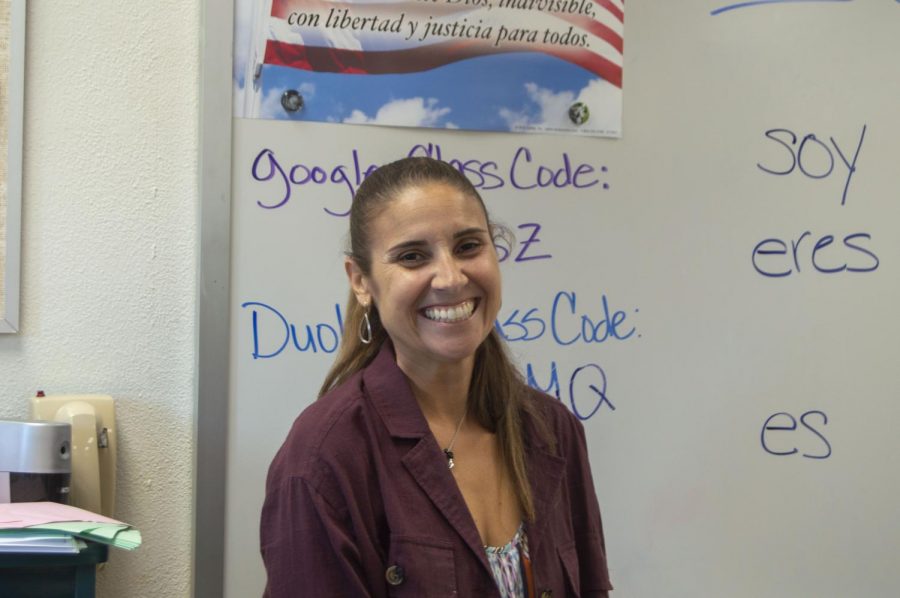 A New Face: Mrs. Snyder joins the Clark teaching staff
After one of Clark's Spanish teachers left, a new position opened up within the Spanish department. And soon enough, that position was fulfilled when Oralia Snyder joined Clark's teaching staff.
Yet, unlike most teachers, her recruiting process was a bit different from the regular interview. GUSD had contacted her when she was a substitute teacher for GUSD. "I actually started teaching at Edison Elementary, and I was teaching third grade bilingual classes," Snyder said. "After that, I subbed at both Crescenta Valley High School and at Glenoaks for Spanish."
Even though she has been at Clark for only a few weeks, Snyder has recognized many differences that has made Clark special from other schools. "Clarkies don't hang out after school, they are always in a rush to get to their busses," she said jokingly. Snyder also said that both the teachers and students have been very polite and very helpful. "The Spanish department and Mr. Kursinki have both been amazing in showing me the ropes," she said.
Snyder said she believes there are major benefits of knowing Spanish as a second or third language. "Not only will it help students to communicate and socialize, I also think it's a great tool to take with you everywhere and anywhere you'd go," Snyder said. "It can benefit you with jobs and in business." She also said that it's exciting whenever someone has the ability to show off that they know Spanish, since people underestimate what a "typical" Spanish speaking person looks like.
Pateel Nahabeed, a sophomore in Snyder's Spanish 3-4 class, said that she is a really nice teacher and helps her students a lot. "She doesn't give us loads of homework which is great," Nahabeed said. "I was overwhelmed when I first started learning Spanish, but now I am actually getting it." Sophomore Aram Kadoian shares a similar view to Nahabeed and thinks she is a great teacher. "She makes class fun and tells jokes," he said. "She really wants us to pass and learn simultaneously."
A main thing that Snyder wants to stress in her upcoming classes is the diversity and past history of Spanish people both in Southern California and the Spanish speaking world. "I have plans for a speaker to come and talk to my students about the Zoot Suit riots, as well as a speaker from Boyle Heights to come talk to them about the origins of Dia de los Muertos in Los Angeles," Snyder said. She stressed the difference between all of the Spanish speaking countries. "Their food's different, their cultures and history are different," she said. "Yet we can all speak and share our experiences together which I think makes Spanish a beautiful language."
She plans to have students do projects about each of the different Spanish speaking countries and their various cultural dishes. "I want my students to be able to distinguish the differences between different dishes in the Spanish speaking world. How do we eat them? How do we prepare them, How do they compare and contrast? I want them to feel like Spanish teens living in that country. I want them to learn different slang. I want them to appreciate how diverse each country actually is, because at the end of the day we're all different," Snyder said.