Glendale Red Cross Club hosts final event for the 2018-2019 school year
The Glendale Red Cross held its annual banquet on May 28 to thank and congratulate every school which currently has an active Red Cross Club (RCC) in the Glendale area. The event was free and open to any current RCC member.
The hour-and-a-half-long event was held in one of the upper rooms of the Red Cross Chapter building. Before the main entrance there was a "red carpet" leading the way towards the door. When entering the room, there were tables set up with red tablecloths and a bouquet of roses as the centerpiece.
The first activity that was held by the RCC e-board members was an ice breaker: two truths and one lie. Participants formed into groups of four and each member had to tell two truths and one lie about themselves and the rest of the team had to guess which one was the lie. The RCC e-board members always start off their event with an ice breaker as a way for members of the club to get to know each other better.
"Since this was our last DGM of the school year, it also meant that it would be the last time I would get to participate in an icebreaker this year," said Roosevelt Middle School student Natalie Fernandez. "Although I will be returning next year as a freshman, it is crazy how time passes by really quickly."
Awards were also given out to the e-board for the dedication they put out this year into making the RCC program not only possible, but a successful program as well. The new e-board leaders were also chosen at this event.
"For the past year, I have gotten more and more comfortable and close with the e-board members," said freshman Sabrina Spatny. "It will definitely be a big change next year since I am not as close with the new e-board members, but I am sure that they will contribute the same hard work and dedication as the last leaders."
The event ended with dinner: fettuccine alfredo with a side of garlic bread. During dinner, seniors had the opportunity to make speeches about their experience throughout their years participating in this event. "It is sad seeing all the seniors leave, but I am sure they will have a great future full of amazing opportunities," said freshman Anisa Alam. " I've only met them this year but they have made my experience here at the Red Cross ten times more memorable."
The Glendale Red Cross also has a variety of summer programs that students can take over the summer. These programs teach young adults different ways in which they can help out in their community, such as participating in blood drives. "Being part of the RCC has been a life changing experience which is why I am going to try and participate in the Red Cross summer programs that they have to offer," Spatny said.
About the Contributor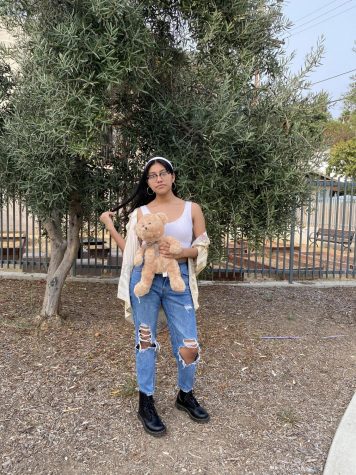 Emili Cruz Sosa, Content Editor
Hobbies/interests: Swimming and hiking

Fav artist: Chase Atlantic

Movie you never get tired of watching: Avengers: Endgame

Goal for the year:...