Elizabeth Warren rallies for 2020 at the Alex Theatre
A free event open to the public
Hang on for a minute...we're trying to find some more stories you might like.
On Monday, Feb. 18, Democratic Senator Elizabeth Warren from Massachusetts made a stop at the Alex Theatre in Glendale to bring her 2020 presidential campaign proposals to the people of Los Angeles County. This came after many individuals announced their own campaigns, such as California Senator Kamala Harris and Minnesota Senator Amy Klobuchar, and just one day before Vermont Senator Bernie Sanders, who is very close to Warren ideologically, officially announced his run.
According to the Glendale News-Press, Warren drew such a large crowd that there were around 300 people outside of the theatre itself, in addition to the 1,400 people inside. Given the high-profile status of the Massachusetts senator, Glendale Police Department officers secured the venue even hours before the event was set to begin in order to ensure the safety of everyone in attendance, including Warren herself. In these hours prior the event, many took the opportunity to sell buttons and merchandise, and one major highlight was a MAGA-hat-donning fourteen-year-old boy with a sign that read "Go Away Pocahontas."
One student from California State University, Northridge's Young Democrats club went to the event with three other members from the club. "What I really want to know is if we will ever be able to recover from the damage that Trump has done, and so I hope that the next president can turn the country around," he said.
The event itself began just after 7:30 p.m. with an introduction by Warren's granddaughter, Lavinia, in which she referred to her grandmother as "Gammy" and explained how much Warren means to her. Once Warren herself took the stage, she was greeted with cheers and applause from the standing audience as she said "Hello, Los Angeles!"
To go along with the theme of family, Warren explained her rather difficult upbringing, which was made so unfortunate by the fact that her father suffered a heart attack while she was in middle school. She noted how, while in bed, she would hear her parents talk about mortgages and foreclosures, coming to see them as "heavy words for a kid." Warren then stated that it was her mother's minimum wage job at Sears which was able to save the family, and emphasized that a minimum wage job used to be enough to support a family of three, now barely supporting a single mother. Afterwards, she said that it was not until she got older that she realized that she was not the only one that had to go through tough times.
Once this foundation was laid, Senator Warren described her adult life, saying that she became a special needs teacher, and detailed her eventual work in the United States Senate. In a moment of comic relief, she joked about how hard it has been to deal with the current president, Donald Trump. It was during the peak of her speech that she went into the reason for presidential run: to bring about lasting change to America.
Warren went in depth into her main campaign proposals, and mentioned her three-step approach which would change the rules in Washington, the rules in the economy and the rules in politics. Topics such as college loan forgiveness, the end of corruption, the overturning of the Citizens United court decision, making joining a union easier and making the wealthy "pay their fair share" were highlights of the night. In an ode to her credibility, Warren noted how she does not accept corporate PAC money as she described these steps to economic change.
Once her speech had come to an end, Warren took the time to answer questions from those in the audience, who were given raffle tickets to have the possibility of asking a question. One girl asked about what Warren's goals were for election security, while a woman asked for the senator's thoughts on her work situation in which most of the pay goes to those at the top of the company in which she works. In order to touch upon multiple topics, Warren talked about a tangentially related topic before answering the question at hand, such as mentioning the situation at the Mexican border with the kids in cages separated by their families.
The end of the time given to ask questions was not the end of the event, however. Senator Warren told the audience that they were free to take a picture with her on the stage with the flag of the United States and that of California in the background, and that they would be called row by row. Although many left the event at this time, many people waited to get a picture with who could potentially be the first female President of the United States of America.
About the Contributor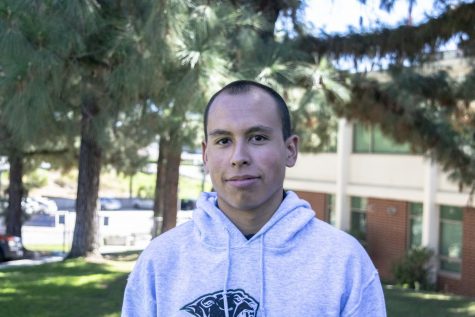 Carlos Rodriguez, Website Editor
Hobbies: Playing the electric guitar, going on Reddit

Favorite shows: The Office

Places you want to travel to: San Francisco, Mexico, Canada, Norway

Items...