Teen GEN Fair inspires and educates teenagers about the future
Hang on for a minute...we're trying to find some more stories you might like.
The well-known Central Library was decorated with balloons, streamers and glitter galore on Feb. 8, as participants were welcomed by friendly volunteers and staff members, who gave each person a drawstring bag filled with goodies and complimentary tickets for food.
The Teen GEN (Glendale Empowerment Now) Fair at the Central Library provided about 50 Glendale teens an opportunity to relax with upbeat music and several stress relieving activities, including watercolor painting on canvases, playing carnival games with prizes, and watching a live KPOP dance performance. Luz Perez, a junior from Glendale High School, enjoyed both activities as well as the opportunity to make new connections.
"I got to meet so many people, and I even ran into old people I used to know," she said. "The slime booth and YouTube Panel was a lot of fun, and they gave good advice too."
As fun as the stress relief activities were, the main event of the fair was the much anticipated YouTube panel. Social media stars Kostas Garcia (YouTube: Kostas Garcia) and Jessica Vill (YouTube: Jbunzie) were invited to talk about the future and give advice to anyone who wanted to potentially become a Youtuber themselves. "If you want to make content [on the internet], be excited, happy, and proud of it," Garcia said. "Stay as authentic as possible and create stuff that you'd like to watch and create."
"Don't do it for the numbers or for fame [because] YouTubers need to have a lot of passion and patience about what they do," Vill said.
In terms of talking about general advice for teens, the two agreed that it's always content before quality. "Bring value to your audience," Garcia said. "If you can tell a story in a unique way, you'll have success." Vill's advice was also to hold on to original creative content as much as possible.
"Be the wildest person you know," she said. "It's all about originality. If you want to have pink hair and wear a dinosaur shirt, there's definitely someone else out there who likes pink hair and dinosaurs too."
However, Garcia and Vill certainly didn't sugarcoat the reality of following paths less taken, either. When discussing hate comments and negativity, as well as obstacles along the way, both talked openly about their struggles. "Artistic burnout is the biggest obstacle for me," said Vill. "Being able to handle this constant back and forth is important and know that they'll add up, but it is so worth it." For Garcia, a positive attitude has kept him motivated. "I was teased a lot in high school, but I didn't care because I was passionate about what I was doing," he said. "If you enjoy doing something, you shouldn't care about what other people say."
"I loved getting to know other students from around the District, and the panel was very interactive too," Perez said. "Everyone I met today is extremely smart and it pushes me to work as hard as they do to succeed."
About the Contributor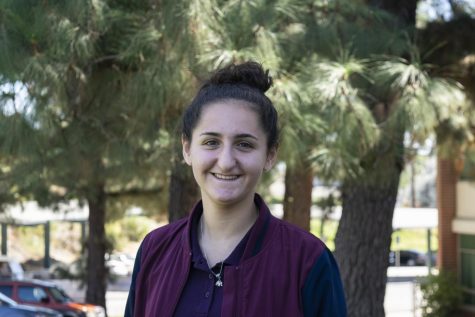 Anna Arutunian, Staff Writer
Hobbies: Reading, writing poetry/short stories, and hiking

Favorite shows: The Good Place & FRIENDS

Places you want to travel to: London, Australia,...