Clark's UNICEF club gives back to the community with its first "Children's Fest"
For the first time since its chartering as a club last year, Clark's UNICEF club hosted its first event titled "Children's Fest for UNICEF" at the La Crescenta Library from 2-4 p.m Jan. 19. The event provided five stations — reading, math, arts and crafts, games, and robotics — aimed at engaging children of all ages. Within each station were special activities connected with the subjects.
In the reading station, children were paired up with "reading buddies," stuffed animals they could snuggle with as Clark students read some story books aloud. The math section provided math-based games for kids of all math levels while, in the arts and crafts station, children created snow globes and provided stickers and markers for children to freely and artistically express themselves. Meanwhile, children in the robotics station were able to create miniature transistors, an electronic component commonly found in electronic devices. Children were also able to play with LEGOs and board games provided by the club.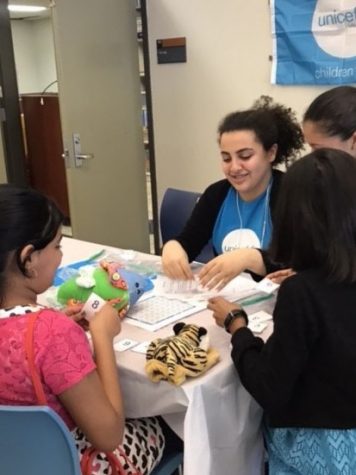 Each child could freely choose their station and were encouraged to participate in the activities provided. "I thought the event provided a fun learning environment because they got to build their skills through creativity and communication," said junior vice president Nairi Haleblian. "It was really nice to see all the parents come and support our first event."
All efforts were in line to support UNICEF's cause to provide aid to needy children around the world. The event not only provided free, educational entertainment for the children but also gave a chance for the club to share and spread its mission with the community. "Focusing on children is what UNICEF stands for, " said club president Amreen Azad. "It was meaningful because the event brought many kids and club members together."
This was the first year of having a UNICEF Club at Clark, but the response to its first ever event was overwhelmingly positive. Parents were more than happy to let their kids have fun while also being educated. Azad said that she looks forward to planning more UNICEF fundraisers and events with the community.
"Everyone did have a splendid time," Azad said. "We hope to hope to host another event like this where more club members and children can participate."