Annual Cinco de Mayo celebrations kick off on Olvera Street
Angelenos participate in the festive atmosphere of Mexico's victory in 1862
Hang on for a minute...we're trying to find some more stories you might like.
The packed street glistened with bright banners of green, white, and red as huge masses of street-goers searched through the collection of street vendors. Booths with Mexican flags, huarache and custom food marked the beginning of the year's annual Cinco De Mayo celebrations at El Pueblo de Los Angeles Historical Monument on Olvera Street.
A common misconception surrounding the holiday is that it's the celebration of Mexico's Independence which is actually celebrated on Sept. 16. On the other hand, Cinco De Mayo celebrates the Mexican Army's symbolic victory over France at the Battle of Puebla in 1862, where Mexican soldiers were outnumbered and lacked crucial supplies.The victory did not directly free Mexico from the French but rather bolstered Mexican hopes and evoked mass celebration of pride and culture. "I feel like Americans make the holiday seem more important than it really is and it's disappointing when no one celebrates Mexican Independence Day the same way," said freshman Jonathan Luis. "However, it still does promote our culture to those who may not know it."
Today, the holiday is not as widely popularized throughout Mexico as Independence Day celebrations and are usually only held in the state of Puebla. Its evolution into a mass holiday in the United States was influenced by Chicanos who felt a need to promote history and cultural diversity especially in a culturally rich city like Los Angeles.
Because of Los Angeles's relatively large Mexican-American population, festivities are easy to come by every year, especially on the world famous Olvera Street which was officially opened in 1930, but functioned as a marketplace as far back as 1877. The crowded street also displays some of Los Angeles's oldest monuments like the Avila Adobe, the oldest standing residence in Los Angeles. The Spanish visage adds to the festive atmosphere as visitors roam the street shoulder-to-shoulder in search of any place to sit, shop or watch entertainment. "I enjoy seeing all the different decorations that speak Mexican culture, from the guitars to the wide-brimmed sombreros" said junior Kryztyna Hernandez, a first-time attendee of the Olvera Street celebrations. "Everyone kept smiling, making you feel welcome, and of course the Spanish language made everything so much more authentic."
In every corner, appetizing scents from old-fashioned styled restaurants like La Luz del Dia and clandestine taquito stands like the Cielito Lindo served towering portions of traditional food. However, the food came with a price, as guests waited in lines for up to two and a half hours just to be seated. Due to the holiday, some restaurants even featured specific Cinco de Mayo themed foods with food organized in the hues of the Mexican flag from condiments such as guacamole, mayonnaise and salsa. While guests anticipated their dishes, mariachi bands walked amongst waiting and seated guests serenading them with songs and at times temporary embarrassment. Among the myriad of street vendors on the street, merchandise included massive flags, celebratory shirts, guayaberas (men's shirts), Mexican skirts and embroidered tunics, and leather sandals named huarache. Visitors even had the chance to see candle-making in the process at the Olvera Candle Shop. Many visitors arrived with traditional Mexican costumes but the colorful attire wasn't limited to humans with one owner even dressing up his chihuahua in a mariachi outfit as well.
Past the street, in the old plaza, stood crowds of people listening to a mariachi band play anticipating the highlight of the day, a theatrical performance named "The Real Cinco de Mayo: Made in California" performed by Ballet Folklorico Flor de Mayo. The jovial atmosphere displayed visitors dancing while others shopped at the exhibitor booths or took pictures in sombreros on a stuffed donkey. The afternoon followed with traditional Mexican dances and music like a performance of the famed Mexican Hat Dance as well as pinatas and carnival activities for kids. As evening approached, street vendors across the street at La Placita, the oldest Roman Catholic church in Los Angeles served memorable souvenirs and street tacos, as well as information on the importance of the holiday.
Although Cinco de Mayo is not a widely celebrated holiday throughout Mexico, Mexican-Americans in Los Angeles make an effort to transmit the festive atmosphere for other Angelenos to enjoy meanwhile preserving an important day in Mexican history.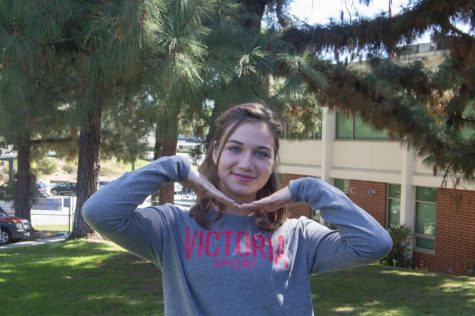 Victoria Bochniak, Website Editor
Hobbies: Reading mystery novels and traveling
Favorite shows: Find me the time to watch shows and I'll tell you
Places you want to travel to: Dubrovnik,...