Kendrick Lamar wins the Pulitzer Prize for music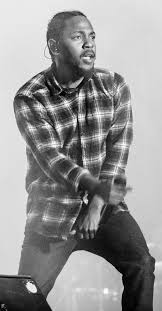 After receiving the Best Rap Album award for his fourth studio album, DAMN., but failing to bring home the Album of the Year award against Bruno Mars' 24k Magic at the 60th annual Grammy awards, Compton native Kendrick Lamar was awarded the Pulitzer prize for music on April 16. Though Lamar won specifically won for DAMN., this was more of a recognition that he deserves as an artist rather than for his album.
Lamar is the first rapper to receive the award since the Pulitzers' expansion to music in 1943, but he is also the first non-classical or jazz musician to win the award.
Though DAMN.'s commercial success — selling over a million copies, according to billboard.com — didn't necessarily come as a surprise, as previous albums had seen similar success, the award came as a surprise to those who saw it as a significantly weaker album compared to Good Kid, m.A.A.d. City or To Pimp a Butterfly.
DAMN. was a great album. It had phenomenal highs — songs like "Feel," "Lust," and "Duckworth" highlighted Lamar's impeccable storytelling and songwriting abilities. At the same time, it had even lower lows — songs like "Loyalty" and "Love" seemed tailor-made for the radio, where songs are expected to carry an upbeat tune, exclusively for cruising. For an all-time great classic like Lamar, the difference in quality amongst his projects was far too major to go unnoticed.
To Pimp a Butterfly was a novel in the way that it picked a theme and stuck with it. Interlude tracks "For Free?" and "For Sale?" both contribute to an overall understanding of the album just as much as more powerful and insightful tracks such as the "The Blacker the Berry" or "Mortal Man." Lamar's consistency in storytelling throughout To Pimp a Butterfly was something that was left behind in DAMN., and, however intentional that may have been in his creation of a new project, fans couldn't help but be disappointed.
Being recognized by such a prestigious award as the Pulitzer is not something to be ignored. Lamar is a generational artist and, since his breakout album Good Kid, m.A.A.d City, has set the bar for a great hip-hop artist in the modern era. Winning the California State Senate's Generational Icon Award in 2015 has established Lamar as not only a great artist, but a symbol of hope and inspiration for the younger generations of Compton.
Though DAMN. isn't Kendrick Lamar's best project, he is absolutely deserving of the recognition that comes along with winning a Pulitzer prize, and has set precedent for how artists should uphold themselves, both with their music and their character.