Under pressure
Students break down bridges to build up knowledge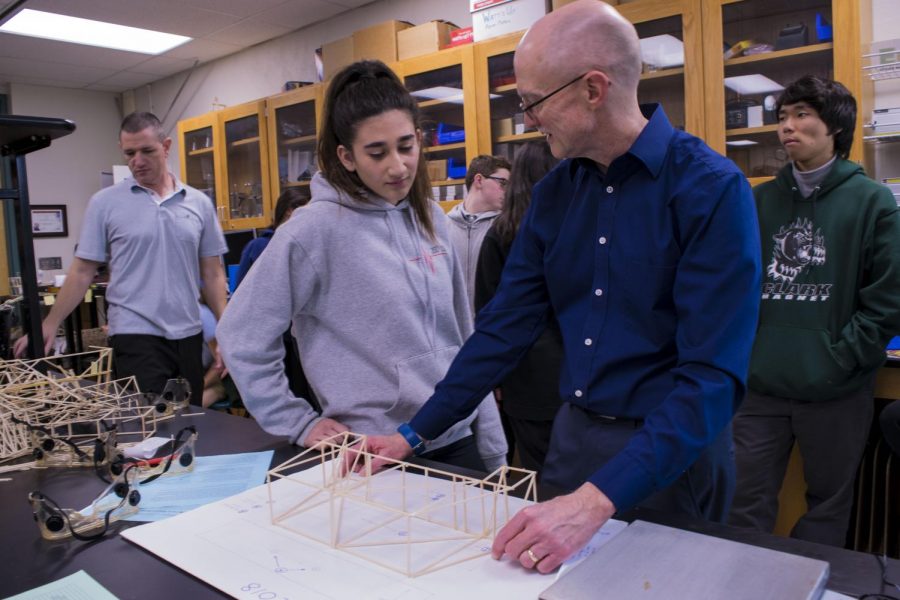 Upon their return from spring break last Tuesday, students rushed into physics teacher Gerald Gruss's class before the 8 a.m. bell could mark them late, hurrying to turn in their submissions for Clark's 17th annual bridge-building competition. This hectic early-morning rush was followed by a three-day intermission during which students waited with baited breath until the day their bridges could be put to the test.
Bridges varied in design, with some bridges including an arch, and others lying flat across the platform. This year 80 students from grades 9-12 turned in bridges. "It's amazing how different the top bridges can be," Gruss said. "However, they usually involve thoughtful creativity and precise construction."
All bridges had to pass Gruss's close examination, during which he considered many requirements before marking them as qualifying bridges. The bridges, for instance, had to span a length of at least 25 centimeters, be less than 15 centimeters high, and be more than five centimeters wide, among other criteria.
As the competition has been held in Gruss's room for 17 years, it can be difficult to come up with new rules, but Gruss does have some inspiration. "I consult the rules for the International Bridge Building Contest, and work from there," said Gruss. The International Bridge Building Contest, hosted by the Illinois Institute of Technology, is open to high school students around the globe. The rules and methods of testing are similar to those used in Clark's competition, which allows students to be competitive without worrying about travel to Illinois.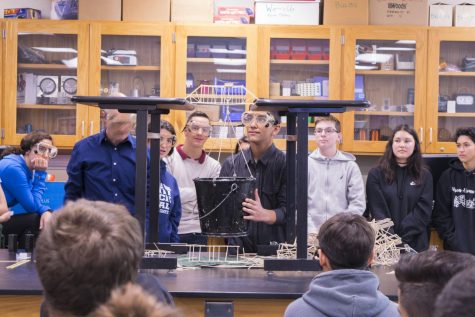 Students had to be careful while building their bridges to ensure the bridge would remain within the specifications. "The qualifications alone took me an hour to understand and felt very overwhelming," said junior Abdullah Hasan. "There was a whole page, back to back; but, after I understood them, they seemed really simple."
After long weeks of building their bridges, and the additional three-day wait, physics students entered class on Thursday or Friday to test their creations. After donning safety goggles, participants gently laid their bridges upon tables spaced 25 centimeters apart, and nervously steadied a swinging 2-kg bucket, which dangled from their bridges to be filled with — what would hopefully be — many five-kilogram weights.
Students were entrusted with the responsibility of placing the additional weights into their buckets. Each participant grabbed a weight and slowly lowered it into the bucket, eyes alternating focus between their bridge and the weight's destination. Their peers stared from behind the testing table, turned around in their chairs for a better view while whispering bets on how much longer each bridge would hold up.
While the process may have been cause for nervousness for many students, others enjoyed it. "Actually watching it [the bridge] hold so much weight was the best part," said sophomore Monte Agakhanyan, whose bridge won awards for first place and best design. "I got to see all my hard work pay off."
Although participants experienced just as much pressure as their bridges did, many held a better understanding of physics and architecture after completing the project, and returned to their seats with heads held high. "Although my bridge didn't hold that much weight, and didn't even qualify, it was really fun to test out," said junior Brijal Shah. "I think it was a valuable experience to have done this competition, and to experience the frustrations and successes which come with creating something."
About the Contributors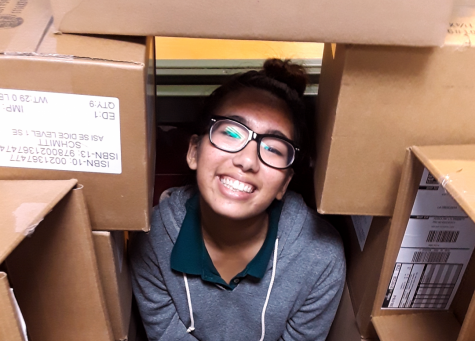 Sangam Sharma, Staff Writer
Interests/Hobbies: Breathing, reading, sleeping, and eating.

Favorite year in music: 1971
Goals in life: Live until 29.

Three words to...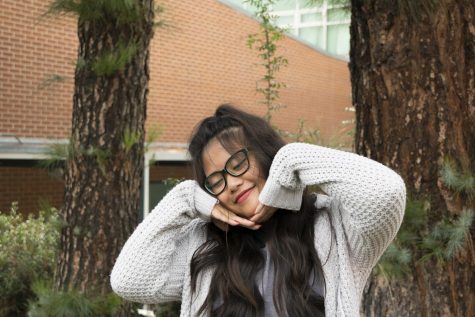 Urielle Corcuera, Photo Editor, Yearbook Section Editor
Interests/Hobbies: fashion, reading, fangirling, reading, doing artsy stuff, reading, reading, reading
Favorite year in music: 18th century-21st...