New Glendale street art installation inspires a positive attitude
"Word on the Street" replaces local street signs with uplifting messages
Hang on for a minute...we're trying to find some more stories you might like.
Stop. Wrong way. Do not Enter. Yield. These are the signs most Californians are faced with on a daily basis on their drive to work or school unceasingly met with their cautionary overtone. However, as of last week, Scott Froschauer, a multimedia artist based in Los Angeles broke new ground by installing twenty unique signs inscribed with positive messages around Glendale to delight local passersby.
The "Word on the Street" art installation was organized by the Glendale Library, Arts and Culture Department who worked with Froschauer over the past few months before introducing the installation this November. "We tried to put together a program to put interesting art in unusual places in the city, and after reviewing a number of proposals this one looked interesting because it included the parks and was something you wouldn't normally see," said Chuck Wike, the Library, Arts and Culture Supervisor of Community Relations.
The installation is designed promote positivity throughout the city as well as challenge everyday expectations of signs and language. "The main visual language in street signs is traditionally negative. The project is about imagining how would we give reassuring language in the place of negative language," artist Scott Froschauer said in a recent interview with the Los Angeles Times.
Froschauer transformed traditional street signs into more comforting messages such as "Breathe," "Relax" and "Do your best," which encourage people to reexamine their seemingly usual surroundings. Aside from reminding people to be the best version of themselves, Froschauer intended his street art to inspire city-dwellers to explore Glendale's multitude of parks and recreation centers saying, "The real impact of the work comes from being present with it."
"I think it's a great idea and adds creativity to the streets of Glendale which is known for modern ideas," said junior David Yegoyan. "Everyone is so busy in Glendale and this emphasizes the importance of happiness and individuality."
Despite the newly gained fame Froschauer's art has earned on social media, some students are questioning the safety of drivers and pedestrians. Even though the art pieces did not replace actual street signs, some are concerned that the signs will be a distraction to ongoing traffic. "I think it will confuse drivers especially if they get interested while driving and get distracted," said junior Nayely Araujo. "Aside from that I think it's a very unique and creative way to express art," Araujo said.
Nevertheless, Froschauer's art is scheduled to stay in Glendale until Nov. 2018 and has blown up the Internet for its unconventional take on street art. For the curious minds who would like to see the street signs in person, Froschauer provided a map of all twenty locations on his website. "This installation is for everyone who visits our local parks or wants to invite people to the parks from the little kids to seniors," Wike said.
"This is something I love about Glendale, its specific touch of personality and its intention to stand out, and I hope others will appreciate that too," Araujo said.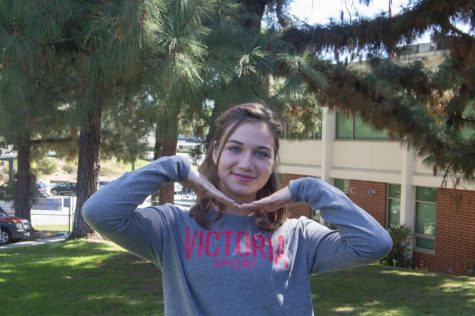 Victoria Bochniak, Website Editor
Hobbies: Reading mystery novels and traveling
Favorite shows: Find me the time to watch shows and I'll tell you
Places you want to travel to: Dubrovnik,...