GCC Theatre Arts Department puts on a production of 'The Cherry Orchard'
On Thursday, May 4, Glendale Community College's theatre department performed their fifth take of The Cherry Orchard. The seats were first come, first served. Although the space was small, there were plenty of seats for the attendees. Ranging from children to senior citizens, the crowd was diverse.
The GCC Theatre Department is a place where students get a chance to work in the entertainment industry, take classes and be a part of productions at GCC. With resources from their own community and the nearby film communities of Hollywood and the greater Los Angeles area, many students get a chance to build up their resumes.
Every year, students put together two or three productions and several student showcases. This year, one of the few productions they put on was The Cherry Orchard. Doing community plays like these bring all types of people together. "People love the entertainment, it's a fun thing to have in a community and I think we should have it more often," said Justin Tay, the actor who played the part Yasha. "Before this I used to do film and television work, but with that we don't get the same liveliness with audience, I love it."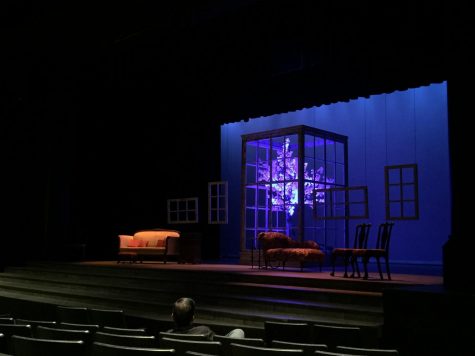 The story of The Cherry Orchard is a satirical tragedy of a Russian family taking place after the liberation of servants. Madame Ravensky is faced with debt after she leaves her abusive lover in France. She and her family are losing their home along with grieving the death of Ravensky's husband and son. Although the events are dark, writer Anton Chekhov still considers it, in a way, a comedy. The characters keep making the same mistakes, do not say what they mean and tirelessly pursue love. They are in one giant mess of confusion.
"I love the story, working with the cast is really great, it's a great ensemble," said Evy De La Cruz, the actress who played the part of Madame Ravensky.