Students explore islands outside the classroom
On April 11, juniors and seniors in Dominique Evans-Bye's Scientific Research class departed from Ventura Harbor to Santa Cruz Island for an all-day hike and lecture on the island. The island is part of the Channel Islands, a set of eight islands formed by a constant series of natural disasters over time. "It's not very often students are able to leave the classroom and do hands-on learning," Evans-Bye said. "By taking the students out to the islands, it gave them a new experience as we trekked through riverbeds to see the many species of plants and animals."
The islands support more than 600 plant species from ten different plant communities. They are also host to 140 landbird species and eleven mammal species. Santa Cruz Island is not only the largest of the eight Channel Islands but is also the most diverse and largest island in California.
Due to millions of years of isolation, the island is home to eight species of plants found only on Santa Cruz Island. The animal species has also adapted to the unique environment creating species that are not found anywhere else.
The trip proved to be an educational experience on an island rich in wildlife. Students learned which species of plants and animals were introduced, the various invasive species, and those that are endemic to the Channel Islands like the island fox or jay.
One interesting indigenous species to the island are the island foxes. They are around the size of a house cat, but are the top predator on the island. Not scared of humans, the island foxes curiously roam the island by the campgrounds. Even the bald eagles do not hunt the foxes that live on the island, but rather they hunt fish unlike the invasive golden eagle. The bald eagle deters the golden eagle from breeding, and steadily, the endangered island fox was able to recover.
Another unique species that only inhabits Santa Cruz Island is the island scrub-jay. Scrub-jays are a type bird that rummage for insects and other small animals in fallen branches. A species closely related to the California scrub-jay, the island jay is larger allowing them to be more efficient as they scavenge.
"It was a unique experience because it's not often that students get to go out to an island to see the endemic animal species that live there," said senior Gabriella Solakian. "It was a great opportunity to explore more of the state I live in."
About the Writer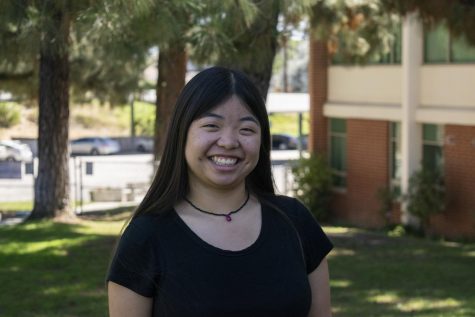 Shaye Holladay McCarthy, Magazine Editor
Hobbies: Archery, dance, writing, cooking, music

Favorite shows: Game of Thrones, Criminal Minds, World of Dance, Legion, Runaways, Daredevil, Runnning...