ASB and Student Officers for the 2017-18 year take office
"I have seen from experience how a leader can make a huge difference in influencing a group of people," said junior Lara Khanjian, future ASB president for the 2017-18 school year. "I believe that I can be that positive influence and a strong leader that the student body needs to have a fun and successful school year. I have a lot planned, maybe even the first ever Disneyland grad night Clark has had."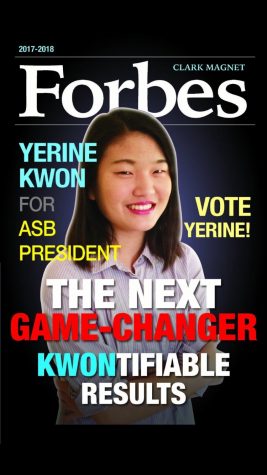 The time had come for Clark to have its annual ASB and class officer elections, and Khanjian had been advertising her campaign across campus weeks in advance, along with many other students. "This year we had many people running," said senior, John Bandek, current ASB vice president. "There was a lot of competition.".
On April 14 all the candidates nervously waited as the assembly began with the flagless flag salute. "The flag wasn't there," said senior Lina Petrossian, current ASB President. "We didn't know why. So we just pretended it was there." After giving her speech to the student body, one of the ASB president candidates, Yerine Kwon, was relieved. "The outcome is unpredictable," she said.
"Running for ASB has been a great experience, and if I do win, then I will be extremely proud and do my best to fulfill my duties as junior secretary," said sophomore Tiana Oganyan, who won the election for junior secretary for the Class of 2019.
Winner of senior class president, Sophia Yeremian, said she was nervously sweating, "I was so scared, I was hopeful but I was crossing my fingers." Yeremian has a lot planned as senior class president. She is planning a color run, and with her previous experience with ASB, she truly believes that she can make the most out of senior year for the Class of 2018.
Election Results:
ASB President: Lara Khanjian
Vice President: Mariam Panikyan
Secretary: Sophia Arlantico
Director of Finance: Kai Ferragallo-Hawkins
Director of Clubs: Naeyra Ghazarian
Director of Activities: Abdullah Hasan
Student Store Commissioner: Tracy Alehverdian
Senior Class President: Sofia Yeremian
Senior Class Vice President: Samantha Gerolaga
Secretary: Lara Tolmajian
Junior Class President: George Bandek
Vice President: Elen Maghakelyan
Secretary: Tiana Oganyan
Treasurer: Jacqueline Aftandilian
Sophomore Class President: Yeprem Muradyan
Vice President: Aleen Soghomonian
Secretary: Mileana Minasyan
Treasurer: Alex Malikian