Senior Horizons gives new insight to seniors
On March 13, about 20 seniors gathered in the cybrary to hear the stories and experiences of alumni who graduated from the class of 2003 all the way to the class of 2012. The 2017 panelists included Mary Abramyan, Michael Aloyan, Mikael Arutunian, Vahe Baboomian, Meg Chil-Gevorkyan, Anny Edinchikyan, Adrian Hairapetyan, Hrair Oganessyan, and Lyova Zalyan, all of whom went from high school students to successful career achievers.
The meeting started with each graduate telling their story regarding what they did after high school and how they came to choose a career path that they wanted for themselves. Although each graduate had a different story, one clear message that they sent out to the present seniors was that it's all right to be undecided on a major and it's also okay to be unsure of a potential career because there is still time to take advantage of opportunities that provide exploration and insight on different careers.
After the graduates introduced themselves, seniors were given the opportunity to ask questions. Questions regarded transferring from a community college to a four-year university, getting involved in campus programs such as the honors program, as well as the advantages of on-campus jobs. Many seniors who attended the event said that they were grateful for the valuable information as well as advice from the alumni, and they are looking forward to applying what they learned once they graduate.
"The most important thing I learned was that it's okay to not know right away what you want [yet] it's great for those that do," said senior Alejandra López. "There are so many other options to choose to do in addition to our majors. You don't have to stick to one thing if you have many interests."
Senior Horizons at Clark was started in 2012 by Humanities teacher Christopher Davis, who based the idea on a program held at his son's high school where alumni would come back to talk to students about life after high school. Davis said that at first there were two panels present for both college and career. This was due to Clark's old standardized testing system in which seniors, who didn't have to come to school until later in the day, could come to campus in the morning in order to attend the Senior Horizons program. Once the testing system changed, Davis stopped organizing the event.
English teacher Narine Tatevosian decided to take charge in 2016 and from then on Senior Horizons has become an annual event. Even though Davis doesn't contribute to Senior Horizons anymore, he still encourages its continuation. "I think when seniors are wrapped up in senior year they think beyond high school," Davis said. "To get the opportunity to talk to Clark graduates who were in the same place is really valuable…and it's [also] a good way for alumni to give back to their school."
About the Writer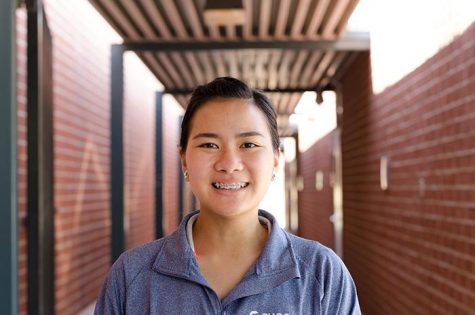 Eunice Ramilo, Photo Editor
Hobbies/Interests: photography, scrapbooking, traveling
Favorite Movie: Maleficent
Favorite Food: Ice Cream
Plans for the future: living a good life...