Elementary school students get hooked on robots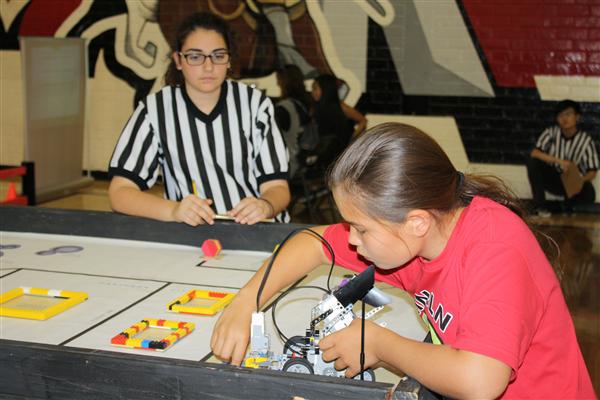 Excitement buzzed around Roosevelt Middle School's campus on the afternoon of March 3, where the 9th annual elementary school robotics tournament was held. Eleven teams in total participated in the competition, with one team representing each school. Not all elementary schools in the district were represented; the schools at the competition were as follows: Balboa, Cerritos, Columbus, Dunsmore, Edison, Franklin, Fremont, Keppel, Lincoln, Monte Vista, Muir, and Verdugo Woodlands.
The gates opened at approximately 2 p.m., where teams were led to their "pits," the designated areas wherein they could set up, modify and program their robots before, after and between rounds.
The opening ceremony began promptly at 3 p.m. inside the Ron Grace Sports Complex. Spectators were allowed in first, taking their seats at the bleachers inside the gymnasium. Then the teams were led in, introduced one by one before everyone was led in the flag salute by Randy Kamiya. After all formalities were attended to by Lyn Repath-Martos, of JPL and Crescenta Valley High School Team 589 Robotics, the games begun.
The competition lasted for one practice and two official rounds, which consisted of robot design judging and demonstration of the robot's programming. The latter was executed on the Deep Space Terraformers competition field, where teams had to complete 11 different robotic tasks on one of four tables spread across the length of the gym. Because spectators were unable to watch what was going on at each active table, Repath-Martos narrated each event like a true sports commentator.
Competition concentrated on STEAM, or Science, Technology, Engineering, Arts, and Mathematics. Each team created a STEM Presentation by way of a PowerPoint to describe how technology can be utilized to help improve human actions. These presentations were scored by a panel of high school student volunteers a week prior to the date of the tournament.
By 5:30, everyone filed into the auditorium for the awarding ceremony. After the guest speaker, Molly Shelton of the JPL Power Systems Engineering Group gave a short presentation on STEM careers, the medals were handed out. There were several ties in some of the categories, much to the delight of the young competitors.
"Hundreds of volunteer hours were given to ensure the 163 students from 12 elementary schools had an enjoyable learning experience. The event was produced entirely by volunteers from our educational community, many of whom are Roosevelt Robotics alumni and participated in the event as 6th graders," Kamiya said in an email. "Our robotics program has been alive and running for the past ten years, thanks to the generosity of the community."
The event had a positive impact on the students who participated as well, as competitors and as volunteers.
"Seeing the smile on the kids' faces made all that work worth it," said Clark senior Royce Kang, who volunteered at the tournament. "When I handed out the medals, these kids looked so happy. And I was a part of that."
"I had so much fun, I'm going to do robotics next year, and the year after that," said John Muir Elementary third-grader Jethro Santos. "And when I go to Roosevelt, I'm going to be in Mr. Kamiya's class."
These were the results of the competition:
STEM Presentation
1st: Tie — Balboa, Edison
2nd: Tie — Cerritos, Lincoln
3rd: Tie — Dunsmore, Monte Vista, Muir
Robot Performance
1st: Dunsmore
2nd: Tie — Muir, Verdugo Woodlands
3rd: Fremont
Robot Design
1st: Tie — Keppel, Columbus
2nd: Tie — Dunsmore, Fremont, Muir
3rd: Tie — Cerritos, Edison, Monte Vista, Verdugo Woodlands
Champions Award
1st: Dunsmore
2nd: Muir
3rd: Edison