Shakespeare contest brings out students' passions
With the bright light on the stage and the five panel of judges sitting in front of the steps of the stage, six students competed in the annual Clark Magnet Shakespeare contest that took place on Feb. 2 in the auditeria. Assistant Principal Armene Mkrtchian and teachers Alex Day-Blattner, Diana McGrath, Eric Kursinski and Stephanie Sajjadieh acted as judges to decide which student would move on to the ESU Los Angeles Branch Community competition.
Open to all high school students, the six students who performed in the Clark contest were freshman Rita Keushkerian, sophomore Marat Mustafaev, juniors Shushana Khachatryan and Areni Markarian, and seniors Karina Khachaturova and Cristian De La Cruz. As the contest coordinator, English teacher Jennifer Davis called in the contestants one by one to recite a scene from one of Shakespeare's plays: MacBeth, Henry V, The Tragedy of Julius Caesar, Romeo and Juliet, As You Like It and Hamlet.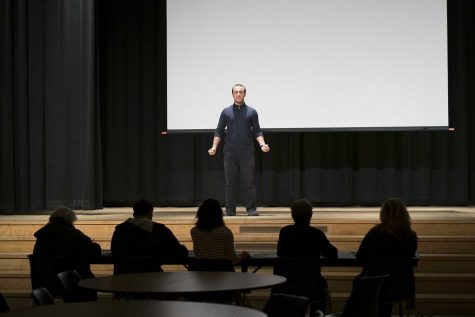 "This is my second year in participating in the Clark competition and I have always had an accelerating rush when I can personify myself in the form of literature, a masterpiece," said De La Cruz. "It is amazing to have this opportunity to produce magnificence."
As each contestant performed, the judges took notes and at the end met together to decide the final winner. Though some performers were not completely fulfilled with their performance, some participants said they felt fortunate to have the opportunity to perform and express their passion for literature. "I felt shame and freedom because I forgot the order of the words," Khachaturova said. "I wasn't so much nervous but more ashamed because with so much preparation I forgot my lines. But I was glad overall just to perform."
The judges announced Areni Markarian as the winner who would move onto the branch competition scheduled to be held Feb. 25 at Marlborough High School. If Markarian is unable to attend, the runner up, Shushana Khachatryan will perform instead.
"I was pleased that we had six competitors this year," Davis said. "It takes a lot of courage to get up in front of not only four teachers but also an administrator."