Model UN competes to combat global issues
After much preparation, students from Clark's Model UN Club — Nare Agakhanyan, Derick Ambarsoomzadeh, Madalynn Carr, Samantha Dominguez, Christian Flores, Erika Hookasian, Allen Khudaverdyan, Norik Margaryan, Melanie Mesropian, Tinisha Sakhrani, Mikayel Sughyan, and Anni Zeynalvand — set out to compete in a two-day mock United Nations conference held at UCLA Nov. 12 and 13 . Students were divided into groups, each of which represented a different country; Clark's Model UN club represented Costa Rica and Sweden.
Junior Derick Ambarsoomzadeh represented Costa Rica, working with topics such as security, nuclear nonproliferation, as well as disarmament demobilization and reintegration (DDR) which dealt with clearing weapons after war and bringing soldiers back into society. Ambarsoomzadeh said that he felt unprepared during the conference because other participating schools brought some fierce competition; but, he still enjoyed his experience. "I learned a lot about different global issues and how prevalent they are in our society. Ambarsoomzadeh also added that even though he was already confident in his speaking abilities, being in the conference made him realize that there is still a lot of room for improvement when it comes to his skills as a student.
Once divided into their distinct countries, the groups of students dispersed to different areas of the university since each area of the university exhibited a different global issue — whether it be HIV/AIDS, Zika, nuclear proliferation or terrorism. In addition, organizations such as the World Health Organization (WHO), the International Atomic Energy Agency (IAEA), and the Disarmament and International Security Committee (DISEC) also participated as major contributions to the UN conference. These organizations helped the represented countries with issues such as combating diseases, using nuclear energy, and dealing with nuclear weapons. The main goal of each group of students was to arrange and present proposals for measures their countries have created so that these measures can get approved and put into action. In order to get their measures passed, different countries created alliances with each other and students were able to work together to advance into the competition.
Patrick Davarhanian, club advisor for Clark's Model UN Club, said that he was proud of what Clark's Model UN Club has become, considering the fact that most schools have classes for Model UN rather than making it a club. Davarhanian also said that participating in Model UN not only looks good on college resumes, but also is a perfect opportunity to make connections with other students. "It's just a wonderful way for students to solve real world problems. Students get to formally present topic they [are interested in] and it's a part of life…it's a great academic environment," Davarhanian said.
Clark's Model UN club has participated in the competition twice so far including this year, and they plan to continue with these competitions in the future.Students who are interested in Model UN and competing are welcome to join; meetings are held every Friday during enrichment in room 5214.
About the Contributor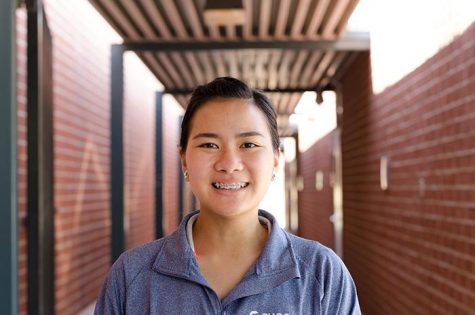 Eunice Ramilo, Photo Editor
Hobbies/Interests: photography, scrapbooking, traveling
Favorite Movie: Maleficent
Favorite Food: Ice Cream
Plans for the future: living a good life...