Clarktoberfest repeats its tradition to entertain students
"When I was waiting in the In-N-Out line, I was not surprised that the line was long since this is my fourth year attending this," said senior Christopher Ruano, as he spoke about the annual Clarktoberfest held Oct. 19. As in previous years, the In-N-Out truck served cheeseburgers, Classic Lay's Potato Chips and a variety of soft drinks to those who had purchased the $5 tickets.
This year, games new and old returned, including old favorites such as baseball toss, panther toss, toilet paper toss and lawn darts. In ladder ball, a new game added this year, the objective was to toss a bolo onto the rung as many times as you could. "I liked this game because it was different than all the other games," said sophomore Jake Nalbandian. "Throwing the ball was a challenge because the ball was connected to a cord which made it heavier to throw."
Since Clarktoberfest took place during a hot afternoon with temperatures in the low 90s, the shaded area near the cafeteria was open to students to hangout and cool off. Also, one of the students brought their own soccer ball and played an impromptu soccer game at an open side of the field.
Students from ASB and various clubs helped distribute prizes and monitored the rules of the games. Junior Ani Mkrtchyan, president of the Creative Writers Club, supervised the panther toss game. "It was very funny volunteering for the panther toss," Mkrtchyan said. "Some of the freshmen threw the bag too hard and broke the tooth of the panther."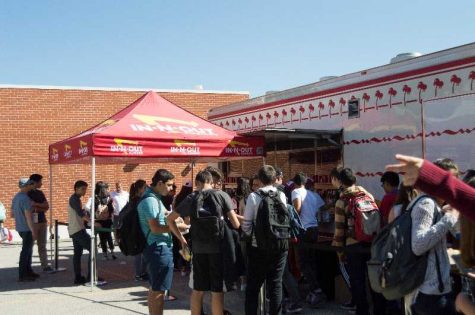 "The Clarktoberfest was a new experience for me since this is my first year," said freshman Kirsten Antonio. "I had fun taking a break from my 7th period and chill out with my friends."
On the same day, sophomores and juniors had a long day taking the PSAT. Both grade levels started the PSAT at 8 a.m., with the sophomores finishing testing at 11:45 a.m. while juniors finished at 12:15pm.
Besides the burgers served at the In-N-Out truck, tutti fruitti and ponchiks were sold. The Publications class sponsored the photo booth for students to take pictures with different props which included gigantic glasses, a viking hat and small signs.