Freshmen are welcomed with pancake breakfast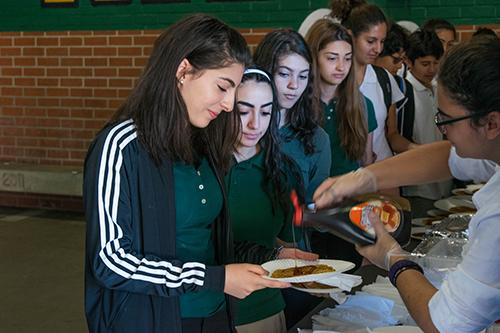 On the cloudy Friday morning of Aug. 19, 322 freshmen were welcomed with the aroma of pancakes. The day started off with a speech from Lena Kortoshian, the new principal of Clark.
The event was organized by the ASB and PAC leaders. Junior Lara Khanjian, student store commissioner, directed students where to go. "I'm really happy about the incoming freshmen, and I'm glad that they got to experience what I did my freshman year," Khanjian said.
Many of the freshmen said they were "excited" and "happy to make new friends" in such a fun and different way. Korstoshian said the idea of the pancake breakfast is great because "students get to connect with each other and feel special."
Although this event has been an ongoing tradition at Clark, it was slightly different this year. Due to the fact that teacher Randy Tiffany, who's been making the pancakes from the very start, retired last year, one of our English teachers, Conrad Pruitt, took over the task. He said that cooking was "fun" and that he "was happy to take over." It was obvious that he has a talent when it comes to the kitchen, and with the help of Chris Axelgard, many of the students had nothing but good things to say about the pancakes.
Freshman Peter Palanjian said he was extremely happy on this day. "It's amazing," he said. "I love every part of it. I wish every day could be a pancake breakfast."