Griffith Park screens 'Friday the 13th'
Just over 36 years ago, the original Friday the 13th was released. Today, it is considered a classic slasher film, and on May 13, a company known as Ten Thirty One Productions held a screening of the movie at the Griffith Park Old Zoo. The event was called the Great Horror Movie Night, and it is the third one this year. So far, Ten Thirty One has also shown Poltergeist and The Shining, in March and April, respectively.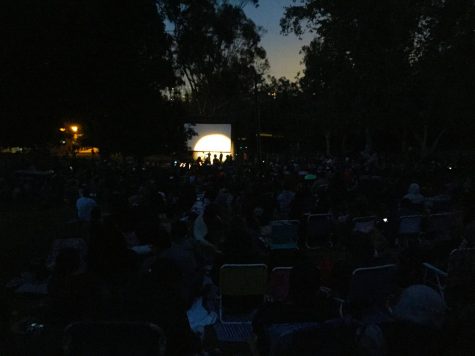 At 6:30, the gates opened and a long line crawled forward outside the gate to the Old Zoo. To entertain horror fanatics and prepare everyone for the night during the lengthy wait, employees disguised themselves under monster masks and jumped out at those who were in line. There were food trucks and concession stands lined up on the side of the grass field, where everyone found a spot to sit. Hundreds of people filed through the gate, all the way until 8, when the movie began.
The film was projected on a large screen on the bottom of the field so that even those sitting at top could watch. "The movie itself, although cheesy, was still fun to watch," said Joe Hermesmeyer, a student at Glendale High School, "especially with a crowd of enthusiastic viewers. It brought many people from all walks of life together for a night." On June 10, Ten Thirty One plans on holding a "Great Horror Campout", a 12-hour campout in Elysian Park. There will be games, activities, and most of all, scares.